Nightly Features
Sunday - $7 Pineapple Daiquiri
Monday - $7 Night of a Thousand Eyes
Tuesday - $7 Unpredicted Season #2
Wednesday - $5 Rosemary Gimlet
Thursday - $5 Keefer St. Cider
Winter Menu
Louche Lips Sink Ships
$16
Tofino Jellyfish absinthe, fino sherry, soursop, lime, blackstrap boba
Temper rum, Branca Menta, pandan, makrut, passionfruit, pineapple, coconut, lime
St Remy Signature brandy, genever, Campari, Frangelico, strawberry, fig root, lemon, milk*, tarragon Peychaud's
Details: *clarified
Moonlight shochu, Averna, Super Punch, trail milk, yolk, aromatic bitters
Dewar's scotch, Frangelico, stout-chata, firewater, egg
Reifel rye, Cocchi Americano, Szechuan golden milk
Details: *served hot
Beefeater gin, rosemary Punt e Mes, maraschino, ginger black tea gomme, sage oil
Appleton Signature rum, Becherovka, PX sherry, dry curacao, mulberry gomme, Peychaud's
Flor de Cana 12yr rum, Del Maguey Vida mezcal, amari, banana, fig, black walnut
Alumni Cocktails
A collection of the Keefer's greatest hits cocktails.
Dragonfruit Beefeater gin, lavender, lemon, sparkling wine
fresh, effervescent, celebratory
Beefeater gin, rosemary lime cordial
tart, herbaceous, fresh
Wild Turkey bourbon, lemon, ginger, tamarind
tangy, citrusy, spicy
Fresh & grilled pineapple Flor de Cana 7yr rum, lime, maple, yun-zhi
fruity, tropical, tart
Dragonfruit Beefeater gin, nigori sake, ginger, lemon, magnolia bark tincture
light, tart, kicky
Forty Creek Canadian whisky, organic apple, lemon, spices
St Remy Signature brandy, ginger & banana liqueur, Suze, rose ginger orgeat, lemon
smooth, spicy, tangy *contains nuts
Wild Turkey 101 bourbon, Fernet Branca, lemon, astragalus, orgeat
herbal, bitter, complex
Pisco, mezcal, lime, pineapple, rose, firewater tincture
fruity, tart, spicy
Unpredicted Season #2
$15
Cazadores blanco tequila, Cointreau, salted plum, lime
Forty Creek Canadian whisky, yuzu sake, lemon, Nin Jiom
rich, herbal, fresh
Honey Don't Dew Me Like That
$16
Maker's Mark bourbon, tarragon Aperol, honeydew, lemon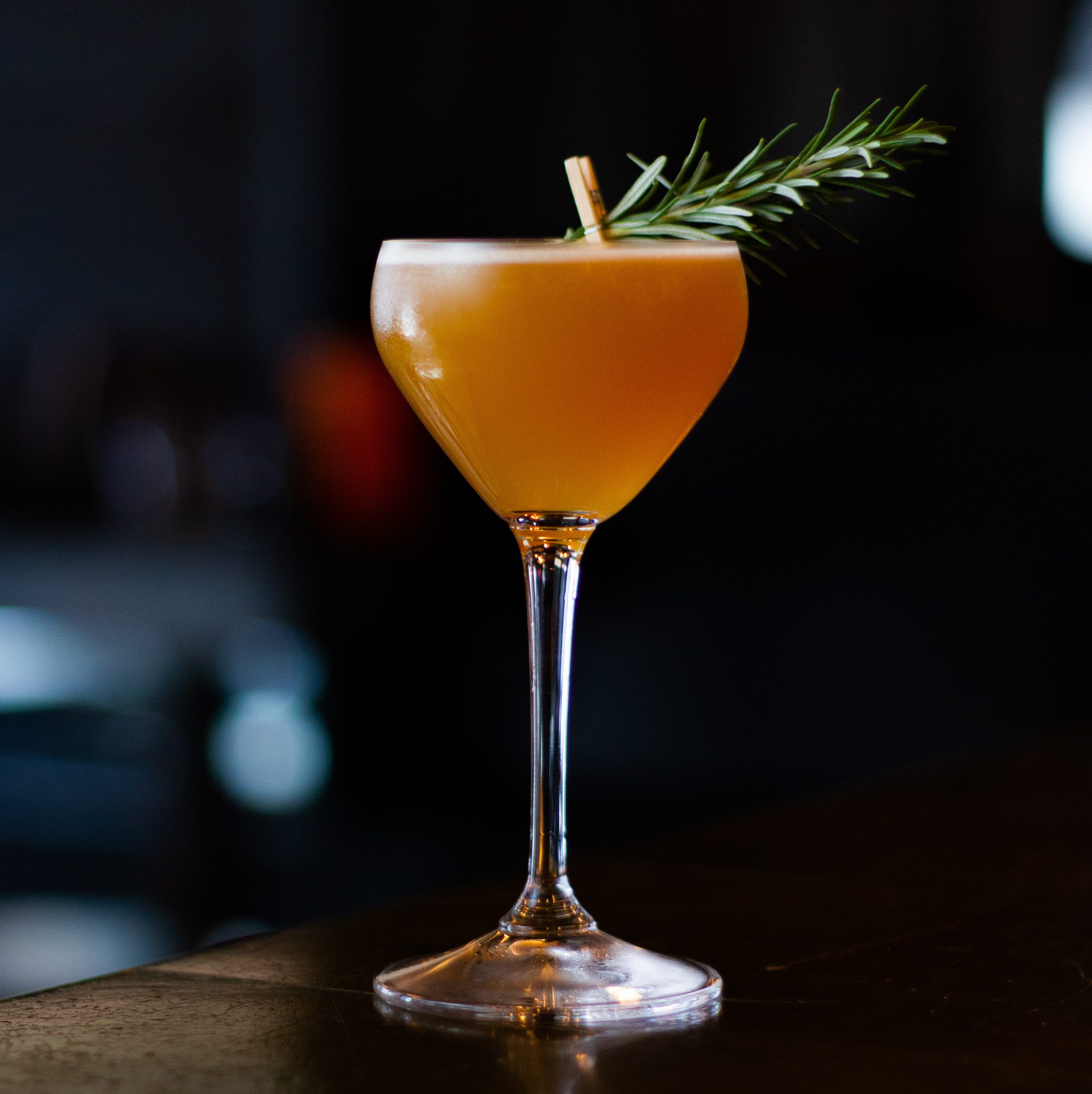 Cazadores blanco tequila, rosemary infused Cynar, grapefruit, lime, maca root
refreshing, bitter, earthy
Botanist gin, lemon, Szechuan & pink peppercorn blood orange syrup, egg white, celery bitters
Tart, savoury, vegetal
Cazadores reposado tequila, Aperol, mandarin shrub, lemon, egg white, soda
citrusy, tart, fizzy
Northern Keep vodka, Happy Wine, strawberry rhubarb tea, pomegranate, lemon, egg white
fruity, tangy, velvety
Night of a Thousand Eyes
$16
Northern Keep vodka, Kahlua, amaro Montenegro, espresso, salted caramel kasu, sesame
Botanist gin, Dry Vermouth blend, foraged hydrosol, served 20 below zero, with house pickled vegetables, olives, lemon twist
strong, herbaceous, bright
Beefeater gin, shiso Yellow Chartreuse, Martini Ambrato, dry vermouth
herbal, bittersweet
Reposado tequila, Cynar, tangerine Benedictine, umeshu, orange bitters
earthy, bittersweet, herbal
Wild Turkey 101 bourbon, coconut gomme, house bitters
strong, bold, bright
Michter's rye, Dolin blanc vermouth, hojicha amaro Montenegro, sakura tincture
roasty, herbal, strong
Dewar's scotch, Averna, Keefer Sweet Vermouth, Benedictine, red cardamom. (Bottle conditioned in beeswax)
rich, silky, smokey
Suntory Toki Japanese whisky, Ambre vermouth, kumquat gomme, "tobacco" bitters
delicate, bittersweet
Ardbeg Wee Beastie scotch, mezcal, Aperol, Keefer Sweet vermouth
smokey, smokey, bittersweet
Sharing
Cocktail shots for you and three friends
Vodka, Frangelico, lime, kaffir lime leaf & vanilla tincture
4 shots
Gin, Lillet blanc, sweet vermouth, maraschino, ginseng, angostura
4 shots
Reserve Cocktails
A curated selection of classic cocktails, made with the best of the best, elite, premium spirits.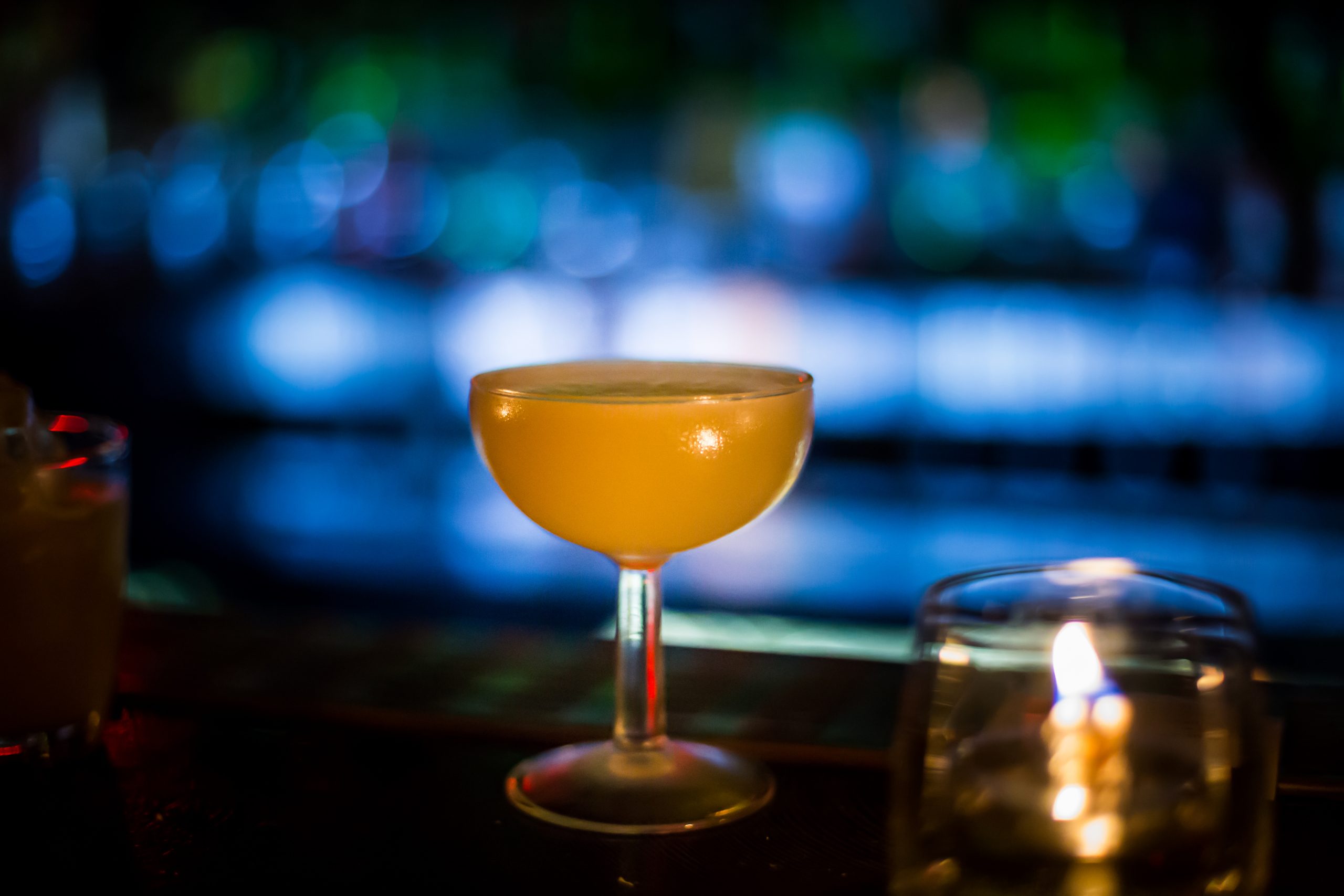 Flor de Cana 18yr, hand pressed lime juice, raw cane sugar syrup, shaken to the high heavens
This cocktail has been through the ringer. Celebrated, then bastardized, and recently reclaimed as the bartender's handshake, this is the yardstick of perfect balance. Credited to Jennings Cox, circa 1896.
Details: The pineapple skins are manually peeled and then infused into Plantation 3 Stars White Rum, which is then distilled in a traditional copper Pot Still. In turn, the effective fruit of the pineapple is infused into Plantation Original Dark Rum. The whole of both is then combined to obtain the tropical Pineapple Rum! For this Limited edition, however, the normal Pineapple rum underwent an extra maturation in a heavily peated Blackpitts cask from Teeling.
Don Julio 1942 Tequila, hand pressed lime juice, Pierre Ferrand Dry Curacao & black Hawaiian salt
Was it originally mixed for actress Rita Hayworth (aka Margarita Cansino), or showgirl Marjorie King ("allergic to vodka") or singer Norma Egstrom (aka Peggy Lee, aka Margaret) or is it just a twist on the daisy cocktail? We may never know. But what's in a name? A cocktail by any other name ...
Your choice of either Nikka Miyagikyo Peated Japanese Single Malt -OR- Nikka Yoichi Non-Peated Japanese Single Malt, raw cane sugar, bitters, ice sphere, orange twist & guinette cherries
Both of these whiskies were released as part of the Nikka Discovery Series in 2021. Yoichi distillery usually produces peated whiskies, and Miyagikyo non-peated whiskies, but for this release they've done a bit of a switcheroo. Choose your own Old Fashioned adventure! This is a cocktail in its purest, most simple form: spirit, sugar, bitters, water.
Bruichladdich Port Charlotte 10yr scotch, El Bandarra Vermouth, pineapple & star anise bitters
A working-stiff cocktail takes a trip to the Caribbean for spring break, and really let's its hair down. Credited to Robert Roy MacGregor, Waldorf Astoria 1897
Michter's 10yr Rye, raw cane sugar, peychaud's bitters, angostura bitters, St George absinthe rinse, lemon twist
This cocktail was born in New Orleans, and a kissing-cousin to the old fashioned. The herbaceous absinthe makes the spice of rye, sing hymns of epic proportions.
Beer
5.2% | 330ml
5% | 330ml
"Crispy AF"
Strangefellows Talisman Ale
$8
4% | 473ml
Delicately dry-hopped and golden-hued ale with its tropical and citrusy aroma
Faculty 165 Shower Beer
$8
5% | 473ml
Easy drinking pale ale, dry hopped with calista & cashmere hops
House of Funk Valhalla Wild Pale Ale
$8
5% | 473ml
A marriage of wild yeasts and aggressive hop usage. Double dry hopped. Citra + Centennial + El Dorado hops.
6.3% | 473ml
This NEIPA is light gold in colour with big juicy flavours of tropical fruit, lemon rind and peach from a mix of Cashmere, Mosaic, and Ahtanum — heavily dry-hopped warm with Citra hops
6% | 355ml
Ripe Okanagan apples co-fermented with saskatoon berries, hibiscus and elderflowers.
5.5% | 355ml
100% BC apples, mild sweetness, with a crisp, clean finish
Sake
Hakatsuru Sayuri Nigori
$25
300ml
Details: Polish: 70% Rich, sweet, unfiltered sake. Nose: strawberries & cream Palate: creamy cherry blossom, white grape, nacho pear
300ml
Details: Polish: 60% Light & dry Nose: floral, melon, grape Palate: melon, apple, white lily
Yoshi No Gawa - Brewmaster's Choice
$48
750ml
Details: Polish: 65% ripe apple & rice cake
Wine
Matua Sauvignon Blanc
$12|$50
Details: Location: Hawke's Bay, NZ Varietal: sauvignon blanc Nose: floral, citrus Palate: herbaceous, balanced acidity, grapefruit
Details: Location: Okanagan Valley, BC Varietal: merlot, syrah, pinot noir Nose: pink grapefruit, watermelon, wild straweberry Palate: fruity
Details: Location: Naramata, BC Varietal: pinot noir, pinot gris, malbec, merlot Nose: bright strawberry & herbs Palate: Montmorency cherry, creamy strawberry
Penfolds Shiraz Cabernet
$12|$50
Details: Location: Koonunga Hill, Aus Varietal: Shiraz, Cabernet Palate: rich berry, plum, violet
Details: Location: Averill Creek, Cowichan Valley, Vancouver Island Varietal: pinot noir & maréchal foch Nose: cherries, red forest berries, purple flowers Palate: high-toned red and purple fruit Nothing has been added to this wine. No yeast, no enzymes, no nutrients and no S02.
Rodney Strong Cabernet Sauvignon
$65
Details: Location: Sonoma County, California, USA Varietal: Cabernet sauvignon Nose: dark berry, prune, toasted oak Palate: medium tannins, lingering spicy oak flavors
Sparkling
ask your server for today's bottle
Details: Location: Treviso, Italy Varietal: glera Nose: wisteria flowers, acacia, crab apple Palate: savory, sweet, Mediterranean spices, lemon
Monte Creek Living Land Sparkling Rose
$70
Details: Location: Thompson Valley, BC Varietal: marquette Nose: strawberries, citrus, peach Palate: strawberry, watermelon
Billecart Salmon Brut Rose
$180
Perrier Jouet Belle Epoque
$250
Dom Perignon Brut Rose
$480
Non-Alcoholic
rosemary lime cordial, soda
Strawberry Rhubarb Soda
$6
strawberry rhubarb tea, pomegranate, lemon, soda
sparkling non-alcoholic amaro soft drink
Lyre's Italian orange Aperitivo, pineapple, lime, rose
rotating non-alcoholic spirit, crafted into a custom cocktail. Tell your server or bartender what flavours you like!
Choose from "Pilsner" or "Pale Ale"
Details: *contains less than 0.5% alcohol
Glossary
A root used for immune deficiencies and allergies.
Promotes healing of wounds, protects liver and reduces cholesterol
Warms the stomach and lungs to stop coughing and vomiting and resolves toxicity.
Strengthens body, restores vitality, calms the spirit and improves mental function.
Rich in vitamins and amino acids, eliminates toxins in the body and improves circulation
A pungent, bitter, warm herb that helps movement of the digestive Qi.
Chinese herbal cough syrup
Cools and invigorates the blood
Replenishes Essence and Qi, regulates and enhances the immune function.
A bitter sweet Italian herbal liqueur consumed as an aperitif or digestif.
A Chinese spirit, usuall made from sorghum
A French herbal liqueur flavored with 27 herbs such as mace, clove and cinnamon
A tincture made from steeping or distilling herbs, spices and/or botanicals in a neutral spirit. Originally designed to aid digestion.
An artichoke flavored amaro
A non alcoholic herbal distillate
Bar Snacks
Nuts
$6
a variety of sweet & spiced nuts
Olives
$8
citrus & lapsang marinated mixed olives
Hunan Pickles
$6
pickled vegetables in the traditional Hunan style
Spicy Marinated Cucumber
$6
cucumber, sesame gochugaru vinaigrette
Bar Snack Trio
$11
mixed olives, nuts, spicy marinated cucumbers
Dim Sum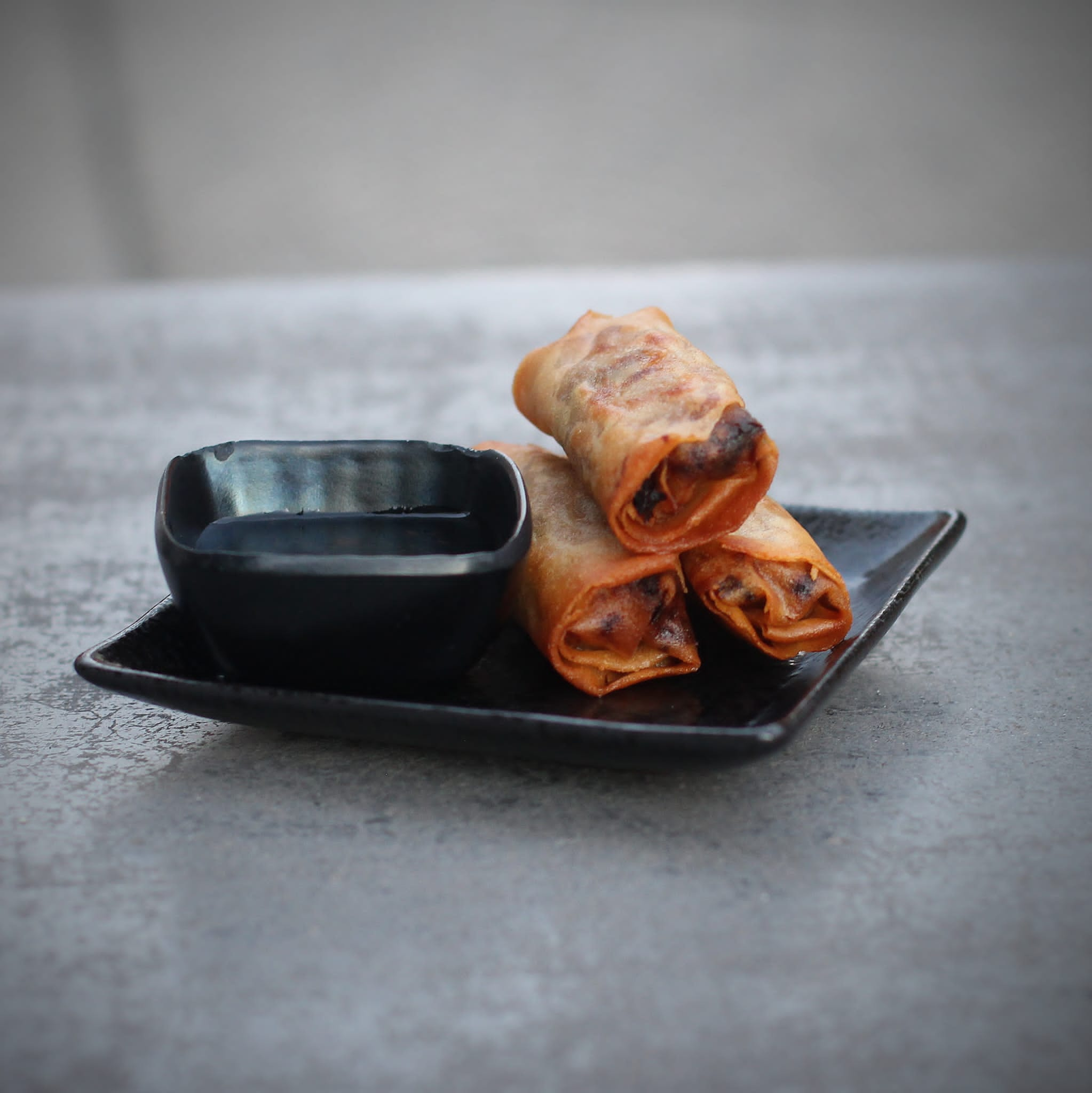 shrimp, duck or veggie
BBQ pork or vegetarian with house spicy mayo
ha gow | shrimp
xiao long bao | pork
siu mai | pork & shrimp
sam gu gaau | mushroom & truffle
basa, water chestnut & spinach wrapped in beancurd, topped with chilli garlic sauce & crispy shallots
Small Plates
Taiwanese Cauliflower
$10
with sausage or tofu, dressed with shallot sauce
Lapsang Pork Tacos
$12
pineapple gochujang salsa, slaw, cilantro
honey ginger beef brisket, pickled veg, green onion, cilantro
roasted duck, cucumber, cilantro, hoisin
Green Onion Pancake Pizza
$13
rotating daily feature
Crispy chicken, Sichuan glaze, slaw, chili mayo, green onion, cilantro
Bar Snacks
Nuts
$6
a variety of sweet & spiced nuts
Olives
$8
citrus & lapsang marinated mixed olives
Hunan Pickles
$6
pickled vegetables in the traditional Hunan style
Spicy Marinated Cucumber
$6
cucumber, sesame gochugaru vinaigrette
Bar Snack Trio
$11
mixed olives, nuts, spicy marinated cucumbers
Dim Sum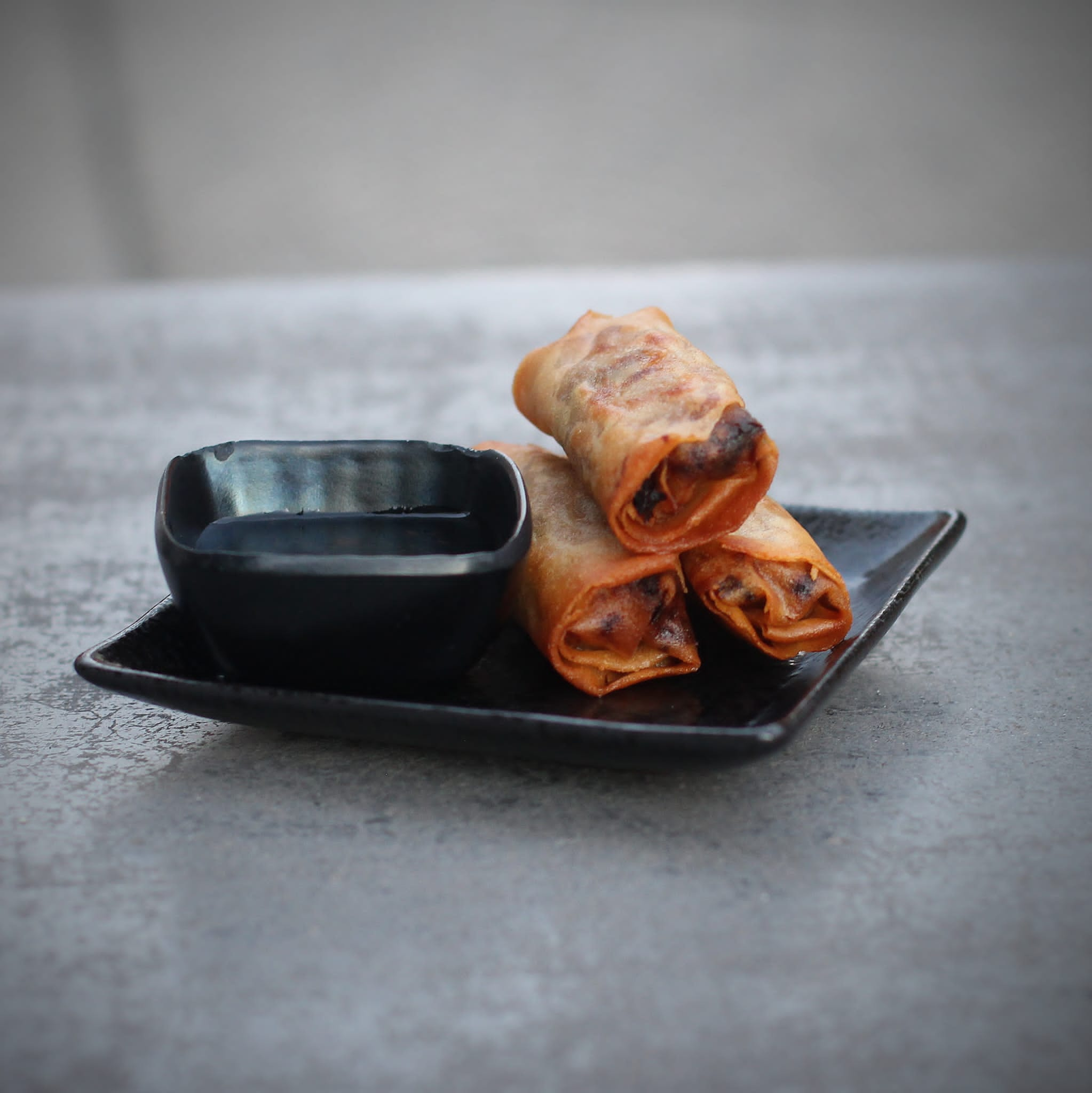 shrimp, duck or veggie
BBQ pork or vegetarian with house spicy mayo
ha gow | shrimp
xiao long bao | pork
siu mai | pork & shrimp
sam gu gaau | mushroom & truffle
basa, water chestnut & spinach wrapped in beancurd, topped with chilli garlic sauce & crispy shallots
Small Plates
Taiwanese Cauliflower
$10
with sausage or tofu, dressed with shallot sauce
Lapsang Pork Tacos
$12
pineapple gochujang salsa, slaw, cilantro
honey ginger beef brisket, pickled veg, green onion, cilantro
roasted duck, cucumber, cilantro, hoisin
Green Onion Pancake Pizza
$13
rotating daily feature
Crispy chicken, Sichuan glaze, slaw, chili mayo, green onion, cilantro
Bar Snacks
Nuts
$6
a variety of sweet & spiced nuts
Olives
$8
citrus & lapsang marinated mixed olives
Hunan Pickles
$6
pickled vegetables in the traditional Hunan style
Spicy Marinated Cucumber
$6
cucumber, sesame gochugaru vinaigrette
Bar Snack Trio
$11
mixed olives, nuts, spicy marinated cucumbers
Dim Sum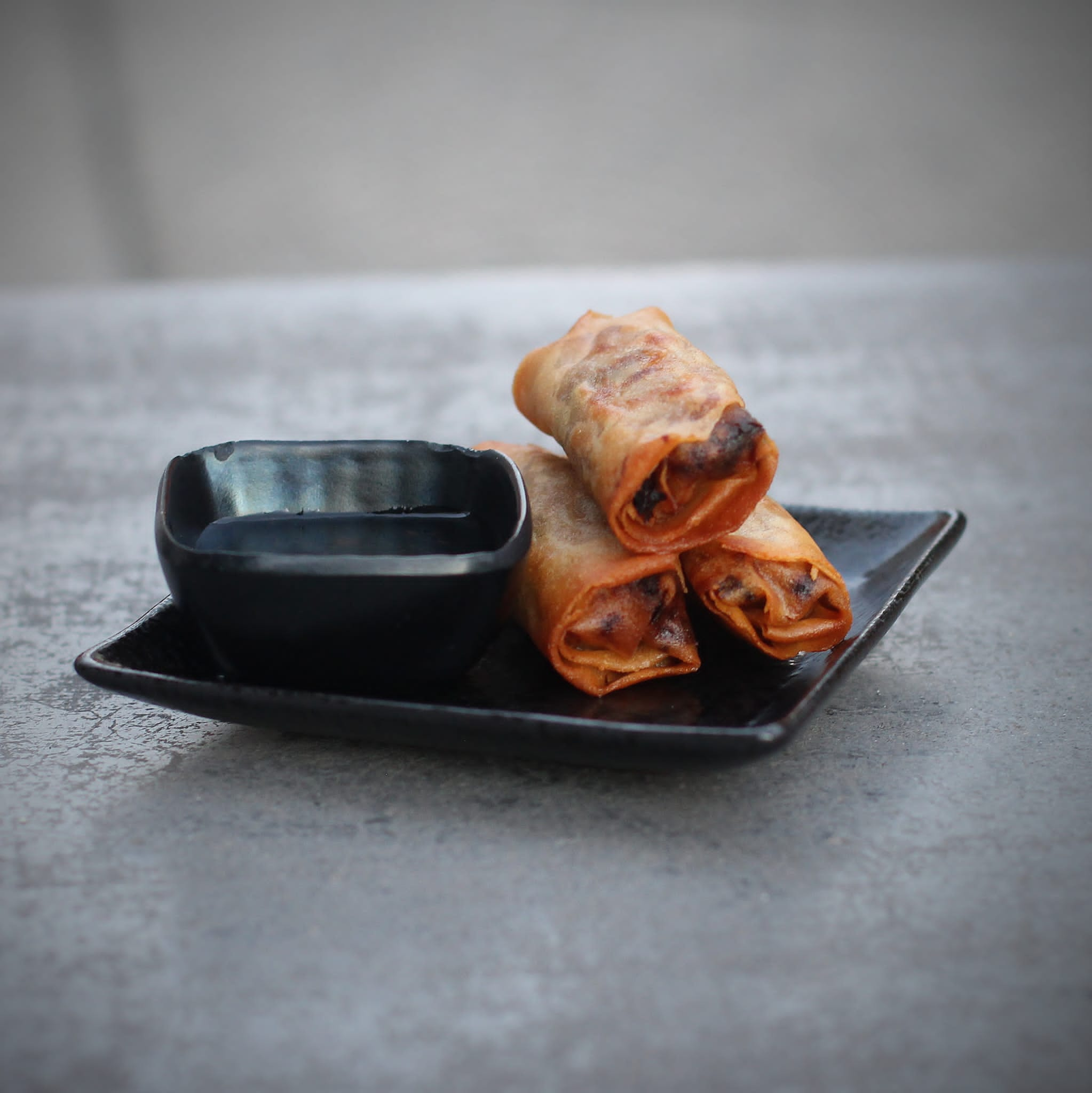 shrimp, duck or veggie
BBQ pork or vegetarian with house spicy mayo
ha gow | shrimp
xiao long bao | pork
siu mai | pork & shrimp
sam gu gaau | mushroom & truffle
basa, water chestnut & spinach wrapped in beancurd, topped with chilli garlic sauce & crispy shallots
Small Plates
Taiwanese Cauliflower
$10
with sausage or tofu, dressed with shallot sauce
Lapsang Pork Tacos
$12
pineapple gochujang salsa, slaw, cilantro
honey ginger beef brisket, pickled veg, green onion, cilantro
roasted duck, cucumber, cilantro, hoisin
Green Onion Pancake Pizza
$13
rotating daily feature
Crispy chicken, Sichuan glaze, slaw, chili mayo, green onion, cilantro
Bar Snacks
Nuts
$6
a variety of sweet & spiced nuts
Olives
$8
citrus & lapsang marinated mixed olives
Hunan Pickles
$6
pickled vegetables in the traditional Hunan style
Spicy Marinated Cucumber
$6
cucumber, sesame gochugaru vinaigrette
Bar Snack Trio
$11
mixed olives, nuts, spicy marinated cucumbers
Dim Sum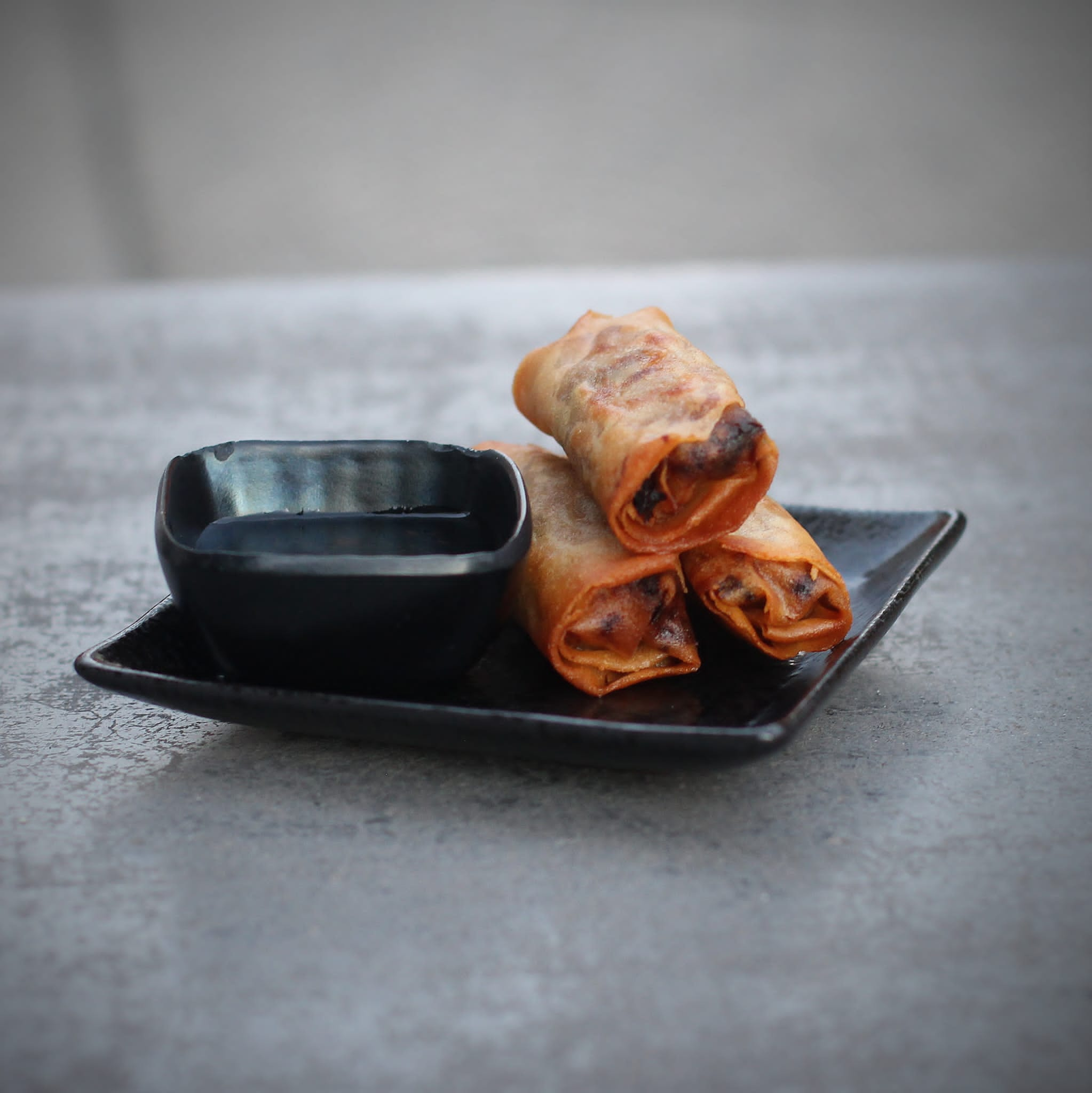 shrimp, duck or veggie
BBQ pork or vegetarian with house spicy mayo
ha gow | shrimp
xiao long bao | pork
siu mai | pork & shrimp
sam gu gaau | mushroom & truffle
basa, water chestnut & spinach wrapped in beancurd, topped with chilli garlic sauce & crispy shallots
Small Plates
Taiwanese Cauliflower
$10
with sausage or tofu, dressed with shallot sauce
Lapsang Pork Tacos
$12
pineapple gochujang salsa, slaw, cilantro
honey ginger beef brisket, pickled veg, green onion, cilantro
roasted duck, cucumber, cilantro, hoisin
Green Onion Pancake Pizza
$13
rotating daily feature
Crispy chicken, Sichuan glaze, slaw, chili mayo, green onion, cilantro
Bar Snacks
Nuts
$6
a variety of sweet & spiced nuts
Olives
$8
citrus & lapsang marinated mixed olives
Hunan Pickles
$6
pickled vegetables in the traditional Hunan style
Spicy Marinated Cucumber
$6
cucumber, sesame gochugaru vinaigrette
Bar Snack Trio
$11
mixed olives, nuts, spicy marinated cucumbers
Dim Sum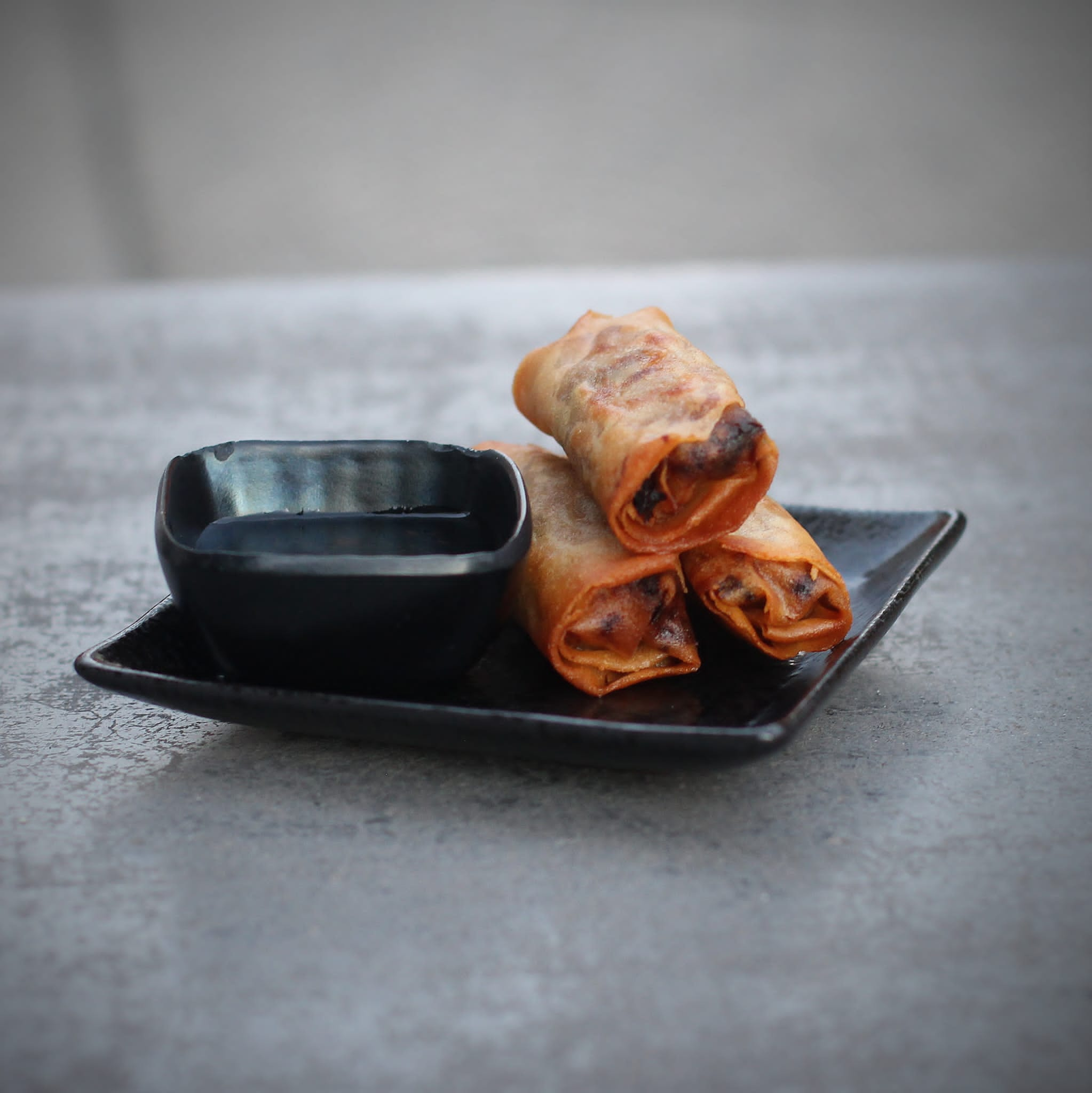 shrimp, duck or veggie
BBQ pork or vegetarian with house spicy mayo
ha gow | shrimp
xiao long bao | pork
siu mai | pork & shrimp
sam gu gaau | mushroom & truffle
basa, water chestnut & spinach wrapped in beancurd, topped with chilli garlic sauce & crispy shallots
Small Plates
Taiwanese Cauliflower
$10
with sausage or tofu, dressed with shallot sauce
Lapsang Pork Tacos
$12
pineapple gochujang salsa, slaw, cilantro
honey ginger beef brisket, pickled veg, green onion, cilantro
roasted duck, cucumber, cilantro, hoisin
Green Onion Pancake Pizza
$13
rotating daily feature
Crispy chicken, Sichuan glaze, slaw, chili mayo, green onion, cilantro
Bar Snacks
Nuts
$6
a variety of sweet & spiced nuts
Olives
$8
citrus & lapsang marinated mixed olives
Hunan Pickles
$6
pickled vegetables in the traditional Hunan style
Spicy Marinated Cucumber
$6
cucumber, sesame gochugaru vinaigrette
Bar Snack Trio
$11
mixed olives, nuts, spicy marinated cucumbers
Dim Sum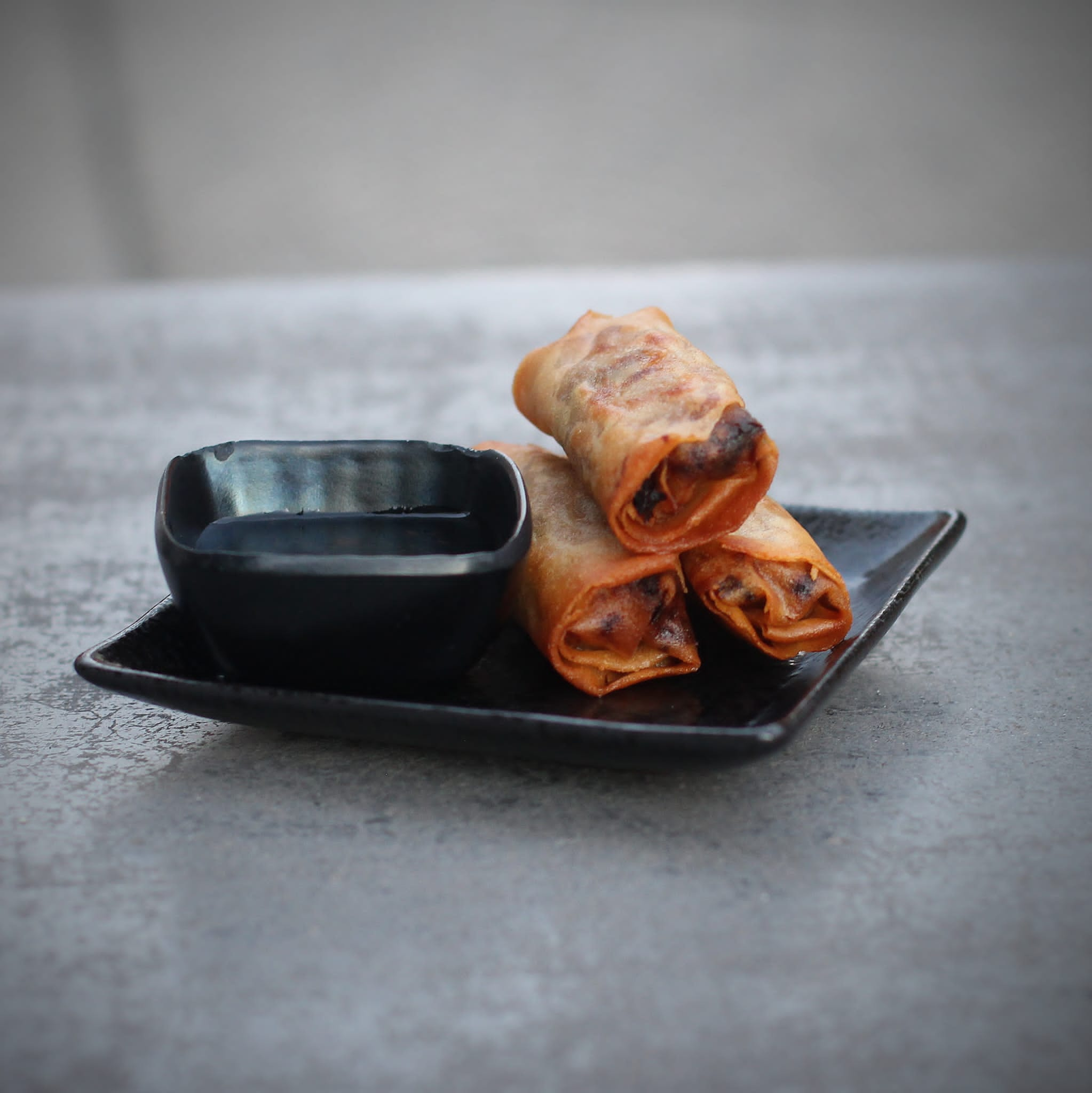 shrimp, duck or veggie
BBQ pork or vegetarian with house spicy mayo
ha gow | shrimp
xiao long bao | pork
siu mai | pork & shrimp
sam gu gaau | mushroom & truffle
basa, water chestnut & spinach wrapped in beancurd, topped with chilli garlic sauce & crispy shallots
Small Plates
Taiwanese Cauliflower
$10
with sausage or tofu, dressed with shallot sauce
Lapsang Pork Tacos
$12
pineapple gochujang salsa, slaw, cilantro
honey ginger beef brisket, pickled veg, green onion, cilantro
roasted duck, cucumber, cilantro, hoisin
Green Onion Pancake Pizza
$13
rotating daily feature
Crispy chicken, Sichuan glaze, slaw, chili mayo, green onion, cilantro
Bar Snacks
Nuts
$6
a variety of sweet & spiced nuts
Olives
$8
citrus & lapsang marinated mixed olives
Hunan Pickles
$6
pickled vegetables in the traditional Hunan style
Spicy Marinated Cucumber
$6
cucumber, sesame gochugaru vinaigrette
Bar Snack Trio
$11
mixed olives, nuts, spicy marinated cucumbers
Dim Sum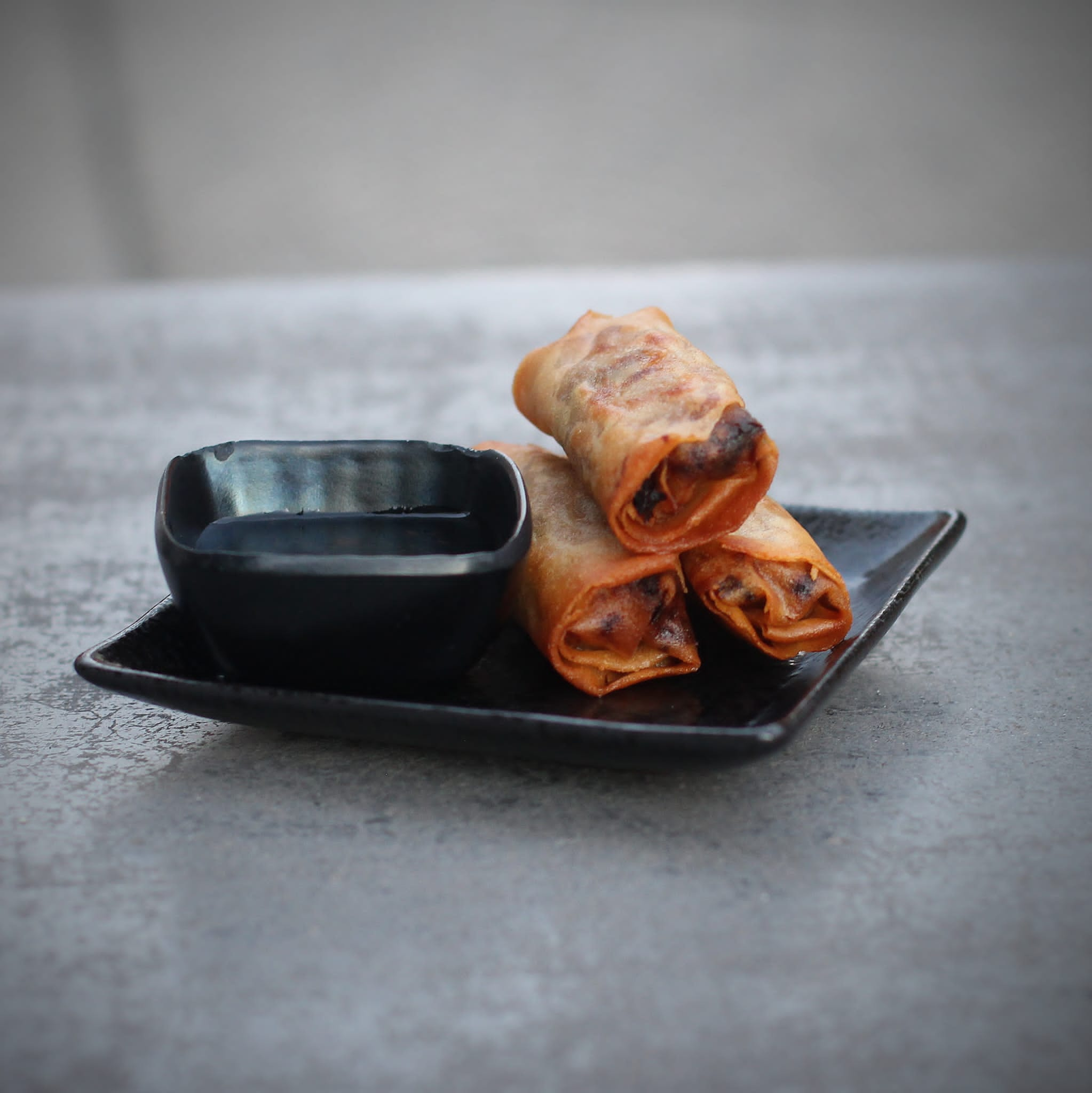 shrimp, duck or veggie
BBQ pork or vegetarian with house spicy mayo
ha gow | shrimp
xiao long bao | pork
siu mai | pork & shrimp
sam gu gaau | mushroom & truffle
basa, water chestnut & spinach wrapped in beancurd, topped with chilli garlic sauce & crispy shallots
Small Plates
Taiwanese Cauliflower
$10
with sausage or tofu, dressed with shallot sauce
Lapsang Pork Tacos
$12
pineapple gochujang salsa, slaw, cilantro
honey ginger beef brisket, pickled veg, green onion, cilantro
roasted duck, cucumber, cilantro, hoisin
Green Onion Pancake Pizza
$13
rotating daily feature
Crispy chicken, Sichuan glaze, slaw, chili mayo, green onion, cilantro
= Vegetarian
= Gluten-Free
Happy Hour
4pm - 6pm
Sunday - Friday
50% off Bar Snacks & Dim Sum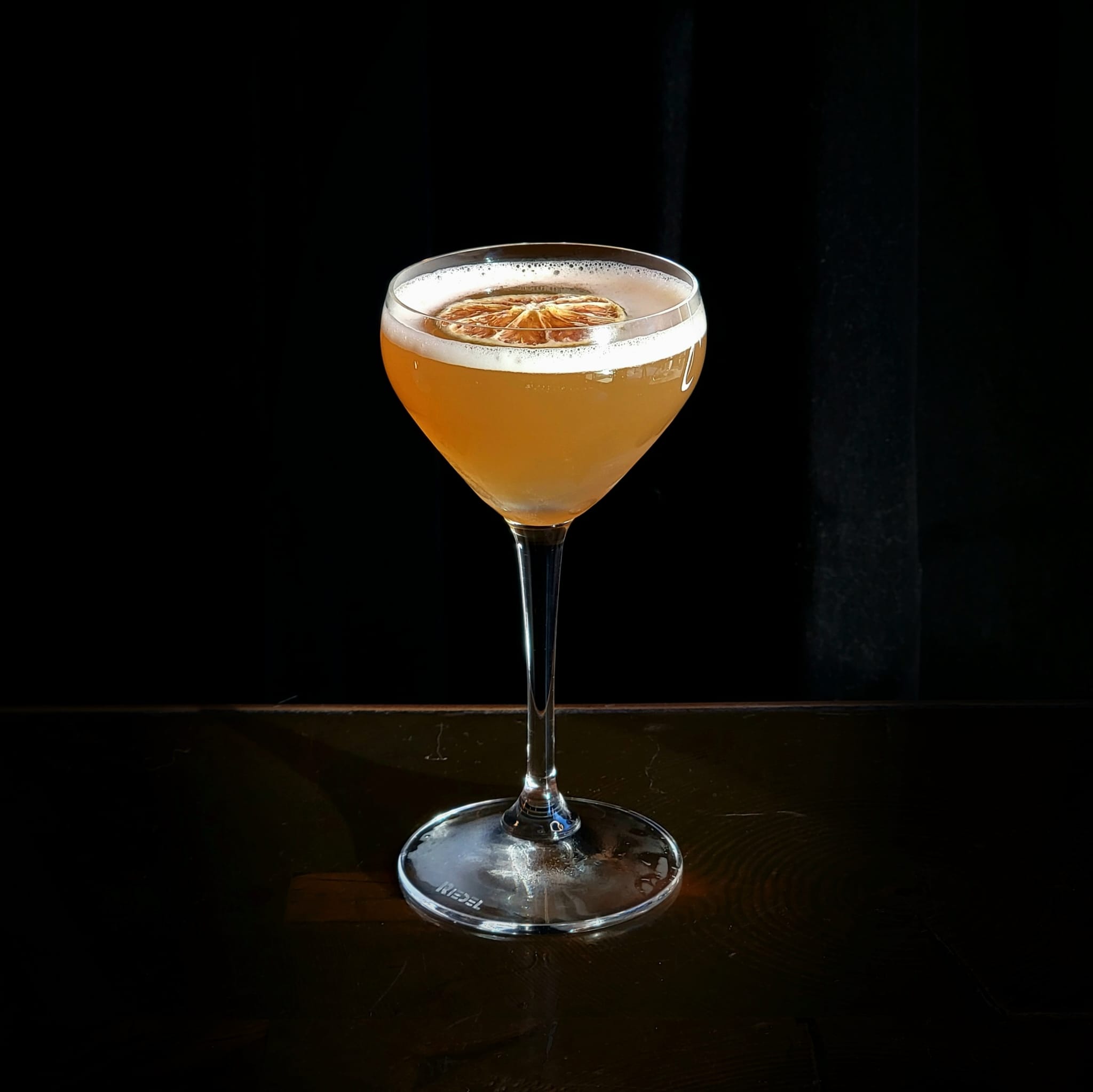 Fresh & grilled pineapple Flor de Cana 7yr rum, lime, maple yun-zhi
Forty Creek Canadian whisky, organic apple juice, lemon, spices
Beefeater gin, rosemary lime cordial
Night of a Thousand Eyes
$7
Northern Keep vodka, Kahlua, amaro Montenegro, espresso, salted caramel kasu, sesame
Cazadores blanco tequila, Cointreau, lime, salted plum
Del Maguey Vida Mezcal
$7