Nightly Features
Sunday - $8 Pineapple Daiquiri
Monday - $8 Night of a Thousand Eyes
Tuesday - $8 Unpredicted Season #2
Wednesday - $6 Rosemary Gimlet
Thursday - $6 Keefer St. Cider
Summer Prescriptions
OTHERWORLDLY | of, relating to, or resembling that of a world other than the actual world.
Silver River Rendezvous
$16
Belle de Brillet pear liqueur, vodka, dry vermouth, LeeGangJu Korean spirit, fig root, coconut water
silky, strong, rich
This martini style cocktail helps to retell the Ancient Chinese story of two stars that fell in love, but were forbidden from being together. They were banished to opposite sides of the heavenly Silver River (the milky way). Once a year on the seventh day of the seventh lunar month, a flock of magpies form a bridge and the lovers can reunite for a single day.
Created by Virginia Guenette
Botanist gin, Cointreau, Pimms, akvavit, cucumber galangal shrub, lemon, milk, soda
tangy, bright, vegetal
Step into the TARDIS and sample this Pimm's cup inspired milk punch from an alternate timeline.
Created by Riley Maggs
St Remy Signature brandy, peach rooibus vermouth, amontillado, osmanthus, orange, cream, egg white, sparkling wine
creamy, fruity, smooth
Tastes like a big ol drop of sunshine in a glass.
Created by Virginia Guenette
Mount Gay Eclipse rum, Cointreau, lime, passionfruit, tonka, curry leaf, green Sichuan peppercorn, sparkling sake
spicy, fresh, nutty
This riff on the Pornstar martini juxtaposes the salacious tingle of Sichuan pepper in a nutty, fruity daiquiri style cocktail, with a cooling, calming, creamy sip of sparkling sake. Inspired by the sexy retro-futurism of Hajime Sorayama's pin-up robot illustrations, this cocktail takes a step back in time before looking ahead to the future.
Created by Asya Hemsworth
Mount Gay Eclipse rum, Averna, black sesame, strawberry oolong coconut milk
creamy, herbal, rich
A stargazers convention is interrupted by world changing events. An allegory for 2020? Perhaps. Inspiration for a whimsical take on a student's favourite drink? Definitely. Cue the cheeky bluegrass music, the camera centered on a muted pale pink cocktail. This milk tea based concoction is bittersweet and tongue in cheek like the latest film from Wes Anderson.
Created by Juan Perello
Cointreau, mezcal, raspberry, yuzu, hojicha, mirin, egg white
smoky, fruity, roasty
Our mulitverse margarita simulator is malfunctioning! We asked it for a margarita, and this trippy concoction popped out. Happy accident? We think so.
Created by Hugo Finan
Paprika Botanist gin, bitter aperitivo, fino sherry, blanc vermouth, fennel hydrosol
bittersweet, smokey, strong
Ever had a negroni on Mercury? Us neither, but we imagine this is how it would taste! Inspired by the belief that Mercury used to have a side permanently facing the sun, and one side shrouded by night.
Created by Amber Bruce
Remy Martin VSOP cognac, Westland American single malt, rose & torino vermouth, shiso yellow chartreuse, tarragon Peychaud's bitters
strong, herbal, smooth
This split base cocktail is inspired by a peace treaty between two warring dimensions. The human world wants to keep the peace, but the demon world would rather dominate.
Created by Hugo Finan
Crafted daily, ask for today's feature.
Wood's Cascadian gin, fino sherry, lemon, strawberry basil orgeat
bright, fruity, tart
Served as a round of 4 shots.
All proceeds go to our friend Ronny's fight against cancer.
Alumni Cocktails
A collection of the Keefer's greatest hits cocktails.
Dragonfruit Beefeater gin, lavender, lemon, sparkling wine
fresh, effervescent, celebratory
Beefeater gin, rosemary lime cordial
tart, herbaceous, fresh
Gobernador pisco, Mount Gay Eclipse rum, Cointreau, fino, lemon, hibiscus, genmaicha
fresh, fruity nutty
Wild Turkey bourbon, lemon, ginger, tamarind
tangy, citrusy, spicy
Fresh & grilled pineapple Flor de Cana 7yr rum, lime, maple, yun-zhi
fruity, tropical, tart
Dragonfruit Beefeater gin, nigori sake, ginger, lemon, magnolia bark tincture
light, tart, kicky
Wild Turkey 101 bourbon, Fernet Branca, lemon, astragalus, orgeat
herbal, bitter, complex
El Gobernador pisco, mezcal, lime, pineapple, rose, firewater tincture
fruity, tart, spicy
Unpredicted Season #2
$16
Cazadores blanco tequila, Cointreau, salted plum, lime
citrusy, fruity, tart
Forty Creek Canadian whisky, yuzu sake, lemon, Nin Jiom
rich, herbal, fresh
Honey Don't Dew Me Like That
$15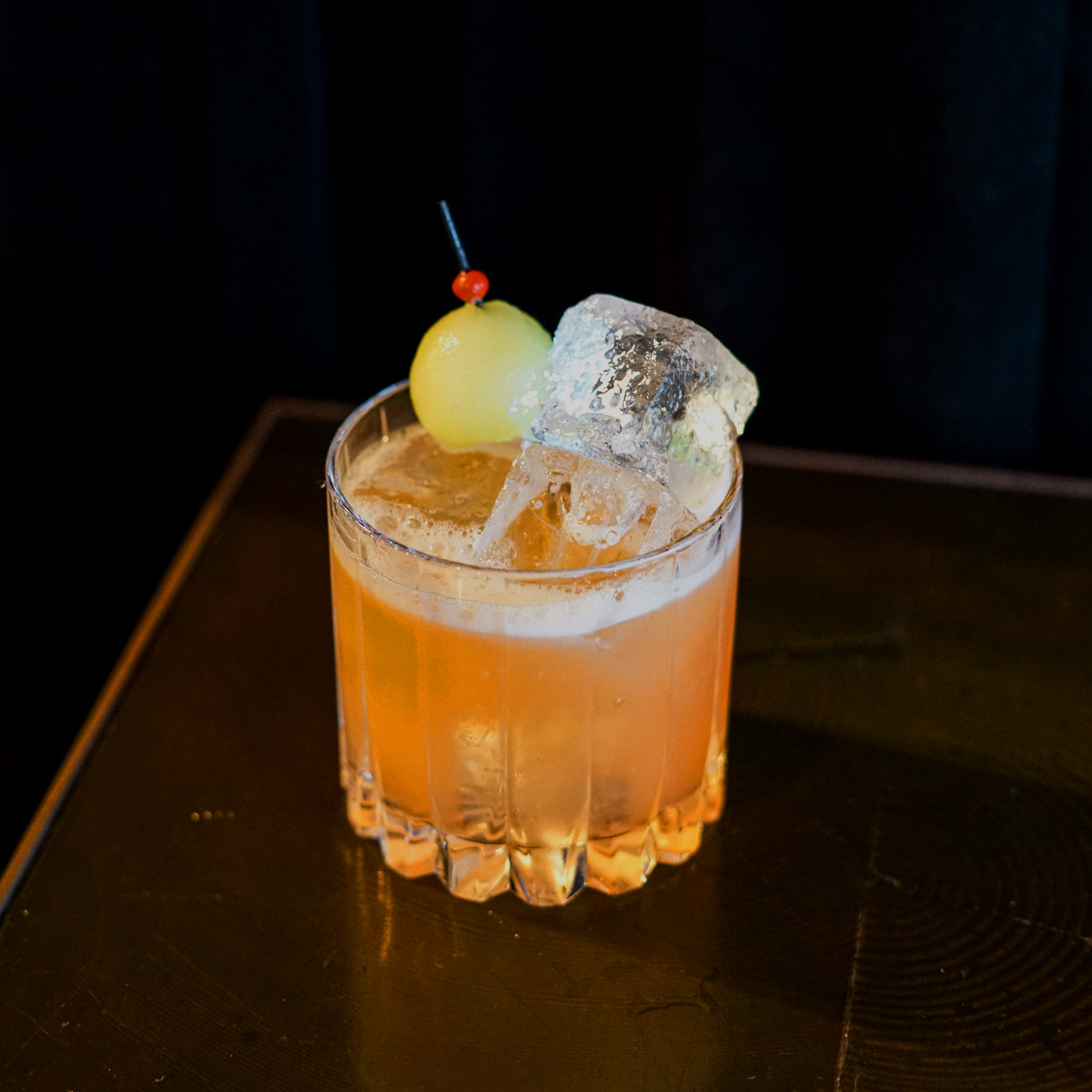 Maker's Mark bourbon, tarragon Aperol, honeydew, lemon
fruity, herbal, summery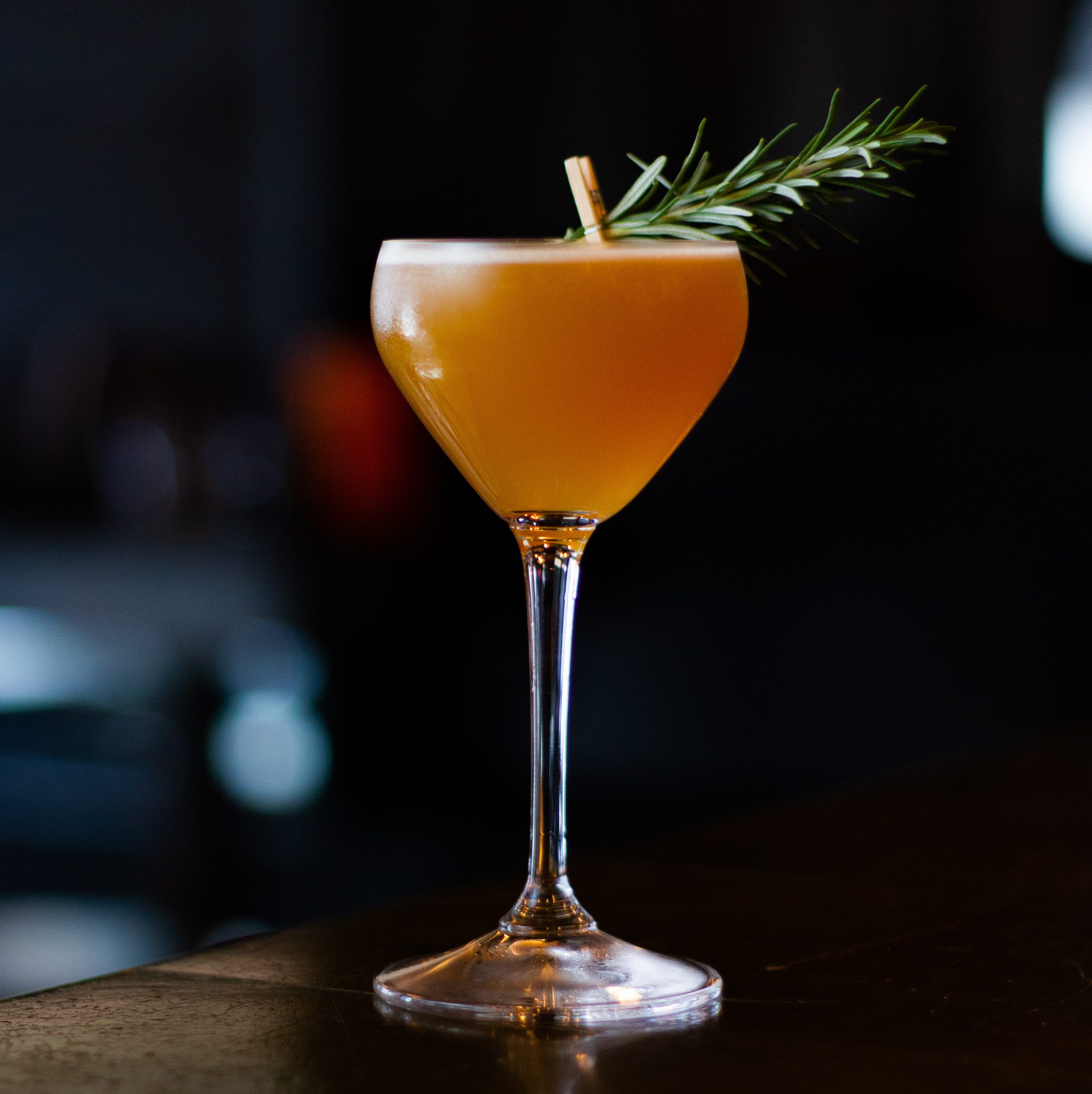 Cazadores blanco tequila, rosemary Cynar, grapefruit, lime, maca root
refreshing, bitter, earthy
Botanist gin, lemon, Sichuan & pink peppercorn blood orange, egg white, celery bitters
tart, savoury, vegetal
Cazadores reposado tequila, Aperol, mandarin shrub, lemon, egg white, soda
citrusy, tart, fizzy
Northern Keep vodka, Happy Wine, strawberry rhubarb tea, pomegranate, lemon, egg white
fruity, tangy, velvety
Beefeater gin, Vida mezcal, matcha, citrus, sesame, bonito, egg white
rich, earthy, umami
Night of a Thousand Eyes
$16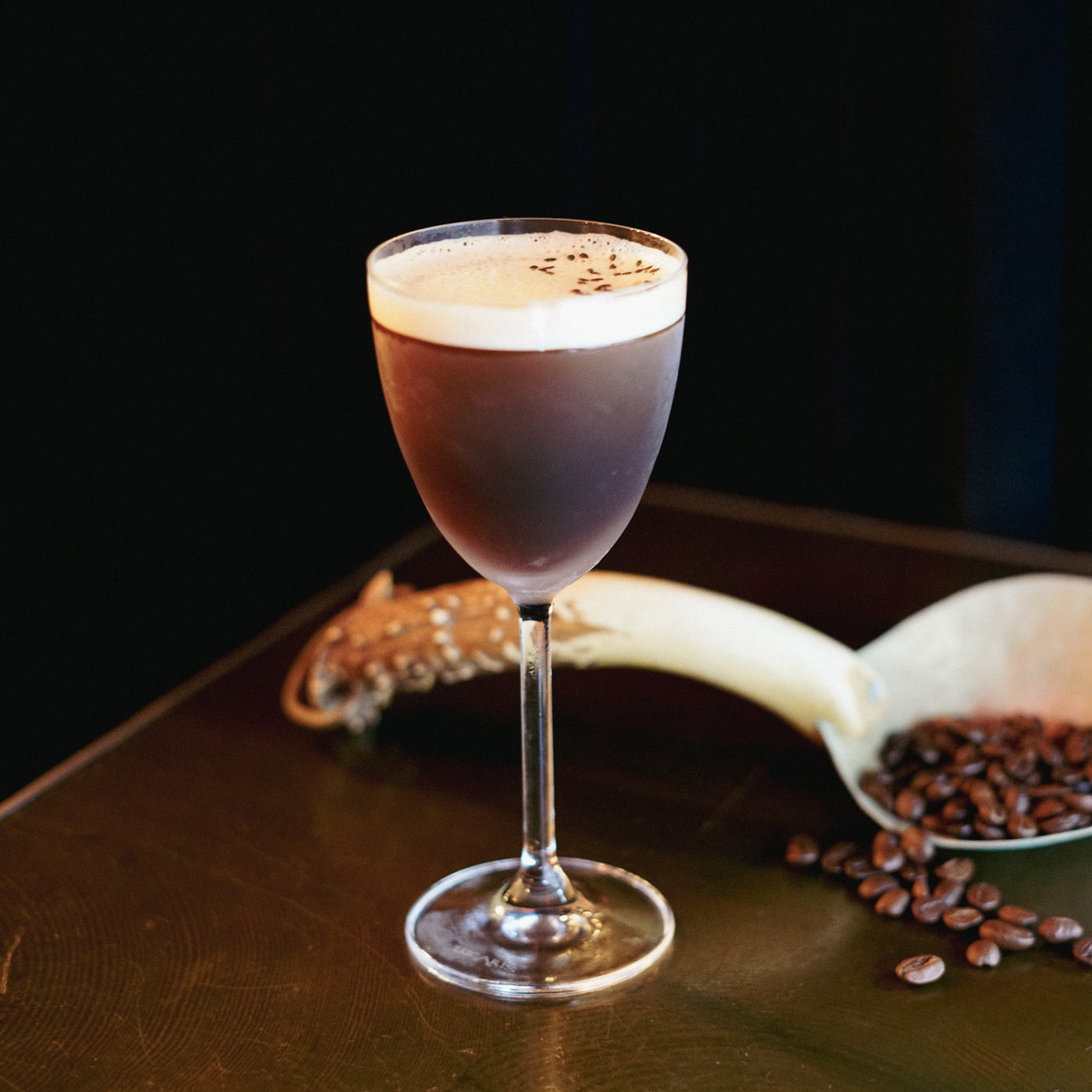 Northern Keep vodka, Kahlua, amaro Montenegro, espresso, salted caramel kasu, sesame
rich, decadent, umami
Botanist gin, dry vermouth blend, hydrosol, served 20 below zero, with house pickled vegetables, olives, lemon twist
strong, herbaceous, bright
Wild Turkey 101 bourbon, coconut gomme, house bitters
strong, bold, bright
Dewar's scotch, Averna, Keefer sweet vermouth, Benedictine, red cardamom. (Bottle conditioned in beeswax)
rich, silky, smokey
Suntory Toki Japanese whisky, ambre vermouth, kumquat gomme, "tobacco" bitters
delicate, bittersweet
Ardbeg Wee Beastie scotch, mezcal, Aperol, Keefer sweet vermouth
smokey, smokey, bittersweet
Sharing
Cocktail shots for you and three friends
Wood's Cascadian gin, fino sherry, lemon, strawberry basil orgeat
4 shots bright, fruity, tart
Served as a round of 4 shots.
All proceeds go to our friend Ronny's fight against cancer.
Vodka, Frangelico, lime, kaffir lime leaf & vanilla tincture
4 shots nutty, citrusy, sweet
Gin, Lillet blanc, sweet vermouth, Luxardo maraschino, ginseng, angostura
4 shots
Reserve Cocktails
A curated selection of classic cocktails, made with the best of the best, elite, premium spirits.
Nikka Coffey Grain whisky, Aperol, paprika honey, lemon, firewater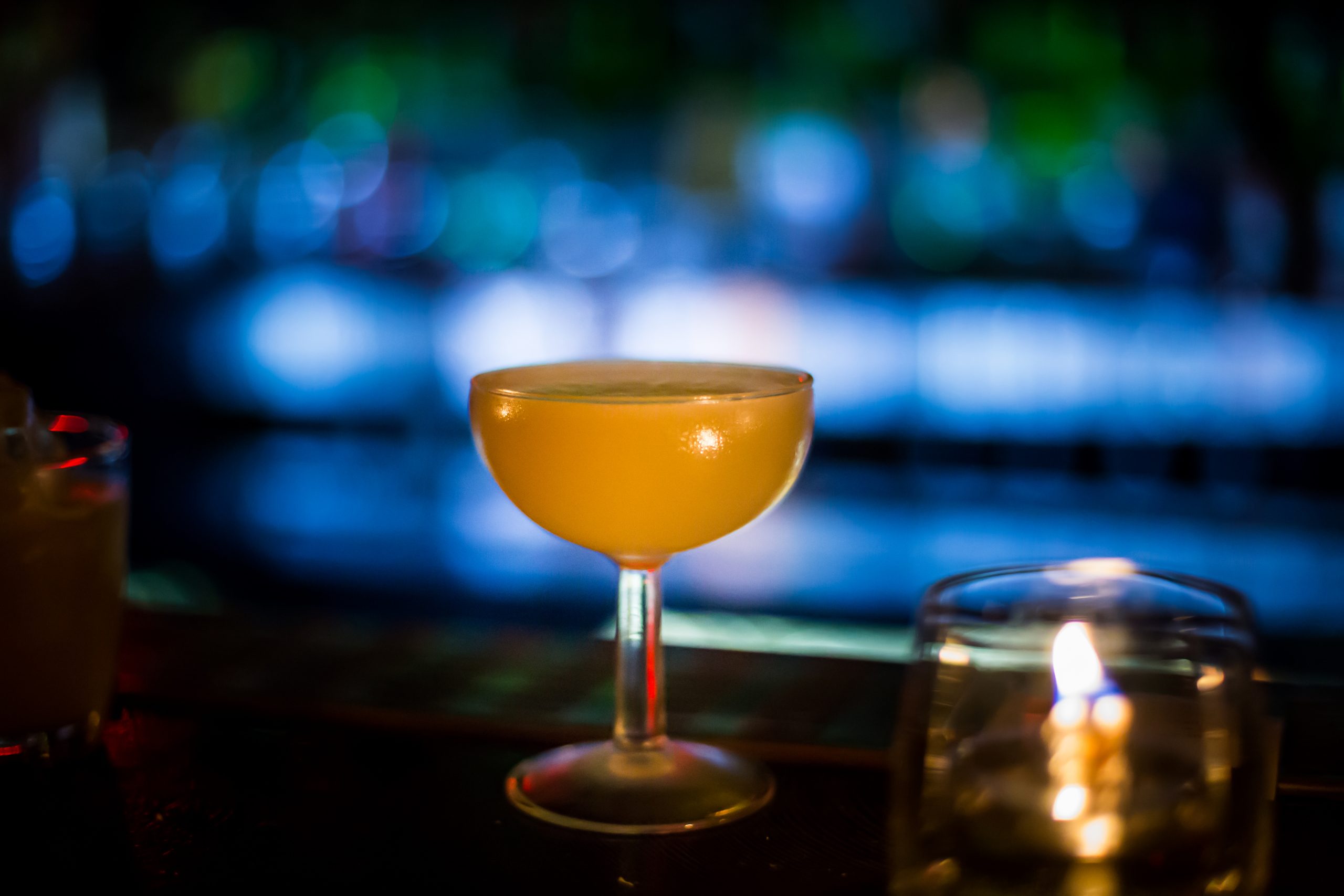 Plantation Smokey Pineapple rum, hand pressed lime juice, raw cane sugar syrup, shaken to the high heavens
This cocktail has been through the ringer. Celebrated, then bastardized, and recently reclaimed as the bartender's handshake, this is the yardstick of perfect balance. Credited to Jennings Cox, circa 1896.
Don Julio 1942 Tequila, hand pressed lime juice, Pierre Ferrand Dry Curacao & black Hawaiian salt
Was it originally mixed for actress Rita Hayworth (aka Margarita Cansino), or showgirl Marjorie King ("allergic to vodka") or singer Norma Egstrom (aka Peggy Lee, aka Margaret) or is it just a twist on the daisy cocktail? We may never know. But what's in a name? A cocktail by any other name ...
Your choice of either Nikka Miyagikyo Peated Japanese Single Malt -OR- Nikka Yoichi Non-Peated Japanese Single Malt, raw cane sugar, bitters, ice sphere, orange twist & guinette cherries
Both of these whiskies were released as part of the Nikka Discovery Series in 2021. Yoichi distillery usually produces peated whiskies, and Miyagikyo non-peated whiskies, but for this release they've done a bit of a switcheroo. Choose your own Old Fashioned adventure! This is a cocktail in its purest, most simple form: spirit, sugar, bitters, water.
Bruichladdich Port Charlotte 10yr scotch, El Bandarra Vermouth, pineapple & star anise bitters
A working-stiff cocktail takes a trip to the Caribbean for spring break, and really let's its hair down. Credited to Robert Roy MacGregor, Waldorf Astoria 1897
Michter's 10yr Rye, raw cane sugar, peychaud's bitters, angostura bitters, St George absinthe rinse, lemon twist
This cocktail was born in New Orleans, and a kissing-cousin to the old fashioned. The herbaceous absinthe makes the spice of rye, sing hymns of epic proportions.
Beer
5.2% | 330ml
Inspired by dry sake, Asahi invented the world's first super dry beer.
5% | 330ml
The original budweiser
Strange Fellows Beldame Pilsner
$9
5% | 473ml
Bright clean and fresh with a bracing and refreshing bitterness and the unmistakable herbal earthy character of the Noble Hallertau hop.
Faculty 165 Shower Beer
$9
5% | 473ml
Easy drinking pale ale, dry hopped with calista & cashmere hops
5.2% | 355ml
Hazy pale ale heavily dry-hopped with 100% Citra hops. It pours a cloudy pale straw colour, with bright aromatics of grapefruit, pineapple and mango.
House of Funk Valhalla Wild Pale Ale
$9
5% | 473ml
A marriage of wild yeasts and aggressive hop usage. Double dry hopped. Citra + Centennial + El Dorado hops.
Small Gods Dragon Mango Sour
$10
4.6% | 473ml
A Thai inspired sour blending dragon fruit, mango, and kaffir lime leaf
6.3% | 473ml
This NEIPA is light gold in colour with big juicy flavours of tropical fruit, lemon rind and peach from a mix of Cashmere, Mosaic, and Ahtanum — heavily dry-hopped warm with Citra hops
5.3% | 355ml
Subtle hints of dark chocolate aroma and roasted malt, this beer is deceptively light.
6% | 355ml
Ripe Okanagan apples co-fermented with saskatoon berries, hibiscus and elderflowers.
5.5% | 355ml
100% BC apples, mild sweetness, with a crisp, clean finish
Sake
Hakatsuru Sayuri Nigori
$25
300ml
Polish: 70%
Rich, sweet, unfiltered sake.
Nose: strawberries & cream
Palate: creamy cherry blossom, white grape, nacho pear
300ml
Polish: 60%
Light & dry
Nose: floral, melon, grape
Palate: melon, apple, white lily
Osake Sparkling Junmai Sake
$16|$45
150ml | 500ml
Polish: 60%
Nose: tropical fruit, pear, toast, nuts
Palate: creamy, melon
Wine
Location: Marlborough, New Zealand
Varietal: pinot gris
Nose: pear, jasmine
Palate: tangerine, honey, ginger
Selbach Mosel Riesling
$55
Location: Germany
Varietal: riesling
Nose: green apples, lime, peach pit
Palate: bright citrus acidity
Le Paradou Cinsault Rose
$12|$50
Location: Southern Rhone, France
Varietal: cinsault
Nose: raspberry, strawberry, watermelon
Palate: strawberry, mineral
Location: Naramata, BC
Varietal: pinot noir, pinot gris, malbec, merlot
Nose: bright strawberry & herbs
Palate: Montmorency cherry, creamy strawberry
Tread Softly Pinot Noir
$12|$50
Location: South Australia
Varietal: pinot noir
Palate: raspberry, strawberry, tart cherry, subtle pepper
Rodney Strong Cabernet Sauvignon
$65
Location: Sonoma County, California, USA
Varietal: Cabernet sauvignon
Nose: dark berry, prune, toasted oak
Palate: medium tannins, lingering spicy oak flavors
Sparkling
Charles de Fere Jean Louis Blanc de Blanc
$12|$50
11.5%
Location: France
Varietal: Airén, chardonnat, colombard, ugni blanc
Nose: apples. apricot, pear
Palate: clean, fruit
Location: Treviso, Italy
Varietal: glera
Nose: wisteria flowers, acacia, crab apple
Palate: savory, sweet, Mediterranean spices, lemon
Monte Creek Living Land Sparkling Rose
$70
Location: Thompson Valley, BC
Varietal: marquette
Nose: strawberries, citrus, peach
Palate: strawberry, watermelon
Mumm Cordon Rouge Brut
$110
Varietals: pinot noir, chardonnay & meunier
Nose: white & yellow fruit, lychee, pastry
Palate: fruit, caramel
Nose: lemon, vanilla
Palate: toffee, apple, nutty
Nose: berries, herbs, spice
Palate: berry, mineral
Billecart Salmon Brut Rose
$210
Varietals: chardonnay, meunier & pinot noir vinified as red wine
Nose: red berry, citrus
Palate: light, fresh raspberry
Perrier Jouet Belle Epoque 2013
$350
Varietal: chardonnay, meunier & pinot noir
Nose: white fruit & flowers
Palate: rhubarb
Dom Perignon Brut 2012
$400
Nose: white flowers & apricot
Palate: taut ginger, tobacco & toast
Dom Perignon Brut Rose 2006
$480
Nose: dark spice, cocoa, fig
Palate: succulent fruit & light saline
Location: Chigny-les-Roses, France
Aroma: Citrus, brioche, toasted nuts
Palate: cherry, vanilla, toast, honey
Non-Alcoholic
rosemary lime cordial, soda
Strawberry Rhubarb Soda
$6
strawberry rhubarb tea, pomegranate, lemon, soda
Oddity hibiscus mint
Wild Folk Sparkling Negroni
$12
Tasting Notes: Rhubarb, Grapefruit Rind, Star Anise, Rosehip, and Juniper.
rotating non-alcoholic spirit, crafted into a custom cocktail. Tell your server or bartender what flavours you like!
*contains less than 0.5% alcohol
Keefer at Home
Want to enjoy Keefer cocktails from the comfort of your own home? Now you can!
1 sachet of mix is enough to make 6 full size cocktails or 12 mini-cocktails.
(Mix is non-alcoholic. Alcohol sold separately)
The Rosemary Gimlet is an all-time Keefer classic. Rosemary adds an herbaceous, earthy note to this refreshing zippy cocktail.
We suggest mixing it with gin, but this mix goes great with vodka, tequila, mezcal…just about any spirit!
Pineapple Daiquiri Mix
$16
The Pineapple Daiquiri is a tangy spicy twist on a classic daiquiri. Fresh pineapple gives this drink a tropical tangy note, and the maple yun zhi adds a rich velvet texture.
We suggest mixing it with aged rum, but this mix goes great with gin, tequila, mezcal, vodka, whisky… just about any spirit!
The Buffalo Soldier is a tangy spicy twist on a whiskey sour. Ginger gives this drink a fresh bite, and tamarind gives it a tangy snap.
We suggest mixing it with bourbon, but this mix goes great with gin, tequila, mezcal, vodka… just about any spirit!
The Blood Moon is a citrusy & vegetal twist on a gin sour. Szechuan & pink peppercorn gives this drink a fresh bite, and celery tincture gives it a savoury balance.
We suggest mixing it with gin, but this mix goes great with tequila, mezcal, vodka… just about any spirit!
Who doesn't love a spicy marg? This one packs a solid punch!
We suggest mixing it with tequila or mezcal, but this mix goes great with gin, vodka, rum… just about any spirit!
Make everything from whisky sours to tom collins with this fresh lemon sour mix!
This literally goes with everything. Check out our Recipe page for ideas.
Make everything fro margaritas to daiquiris with this fresh lime sour mix!
This literally goes with everything. Check out our Recipe page for ideas.
Glossary
A root used for immune deficiencies and allergies.
Promotes healing of wounds, protects liver and reduces cholesterol
Warms the stomach and lungs to stop coughing and vomiting and resolves toxicity.
Strengthens body, restores vitality, calms the spirit and improves mental function.
Rich in vitamins and amino acids, eliminates toxins in the body and improves circulation
A pungent, bitter, warm herb that helps movement of the digestive Qi.
Stimulates libido
Chinese herbal cough syrup
Cools and invigorates the blood
Replenishes Essence and Qi, regulates and enhances the immune function.
A bitter sweet Italian herbal liqueur consumed as an aperitif or digestif.
A Chinese spirit, usuall made from sorghum
A French herbal liqueur flavored with 27 herbs such as mace, clove and cinnamon
A tincture made from steeping or distilling herbs, spices and/or botanicals in a neutral spirit. Originally designed to aid digestion.
An artichoke flavored amaro
A non alcoholic herbal distillate
Bar Snacks
Nuts
$6
a variety of sweet & spiced nuts
Olives
$8
citrus & lapsang marinated mixed olives
Spicy Marinated Cucumber
$6
cucumber, sesame gochugaru vinaigrette
Bar Snack Trio
$12
mixed olives, nuts, spicy marinated cucumbers
Dim Sum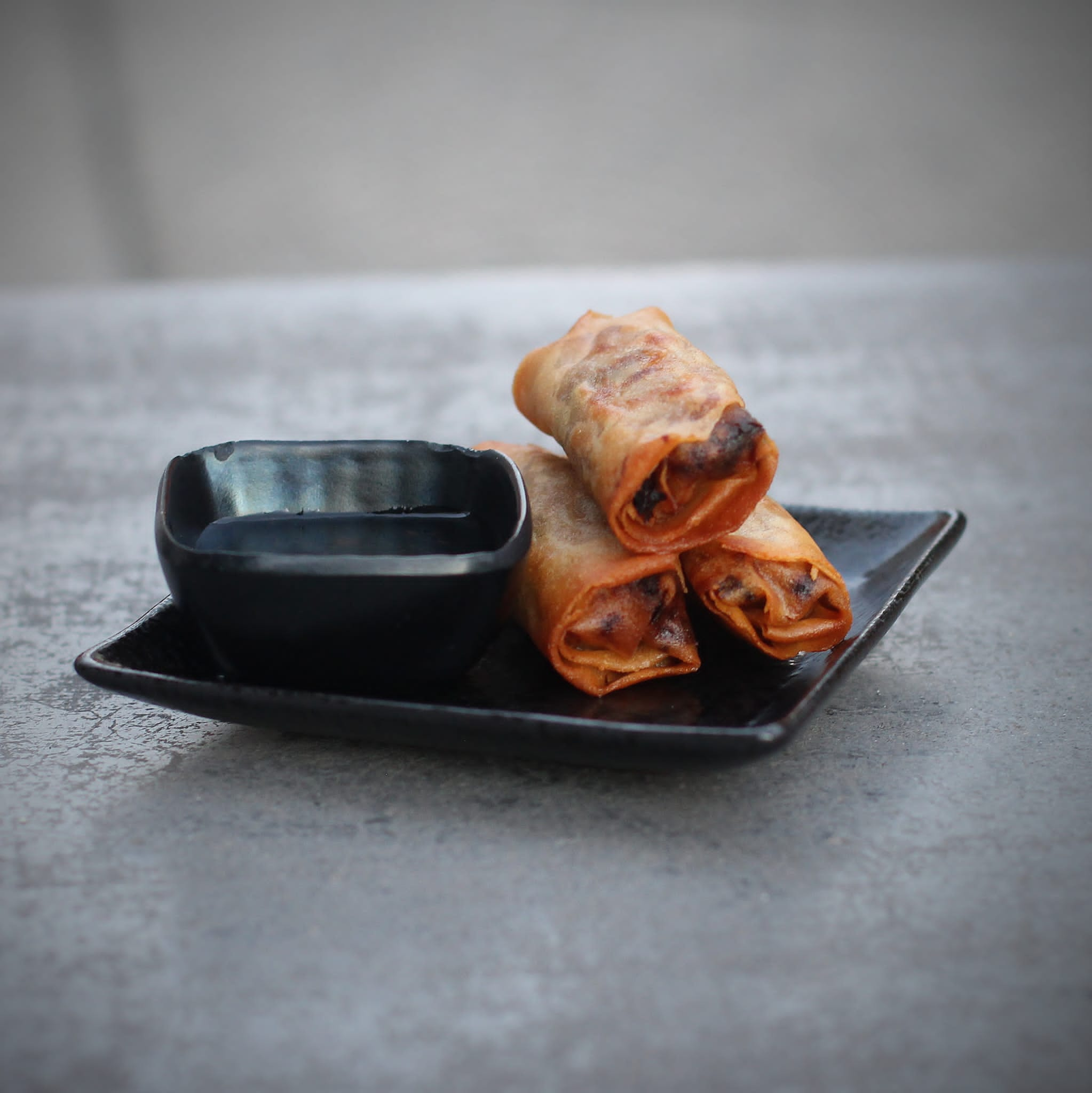 shrimp or veggie
BBQ pork or vegetarian with house spicy mayo
Handmade, lightly seasoned shrimp dumplings, tapioca wrapper
Handmade pork soup dumplings
Handmade dumpling with pork and shrimp in a wonton wrapper
sam gu gaau
$12
Handmade four mushroom and truffle dumplings
basa, water chestnut & spinach wrapped in beancurd, with chilli garlic sauce & crispy shallots
Small Plates
Double Dip Donut
$12
mushroom tofu crema, toasted trail mix, savoury Chinese donut
Taiwanese Cauliflower
$15
lap cheong sausage, seed & almond crunch, yuzu mustard

Green Onion Pancake
$18
roasted mushroom, tofu truffle crema, ginger scallion chimichurri
add lap cheong sausage +3
Tuna Kilawin
$19
albacore, pineapple, lemongrass, coconut, chips
crispy chicken, Sichuan glaze, slaw, chili mayo
honey ginger beef brisket, pickled onion, green onion, cilantro, wasabi mayo
Dessert
Chinese Churros
$10
Chinese donut, cinnamon sugar, Cointreau infused dolce de leche
sweet corn ice cream, ube cookie, Hawker's Canadian Cheesies
Beta 5 X Mark Singson

Bar Snacks
Nuts
$6
a variety of sweet & spiced nuts
Olives
$8
citrus & lapsang marinated mixed olives
Spicy Marinated Cucumber
$6
cucumber, sesame gochugaru vinaigrette
Bar Snack Trio
$12
mixed olives, nuts, spicy marinated cucumbers
Dim Sum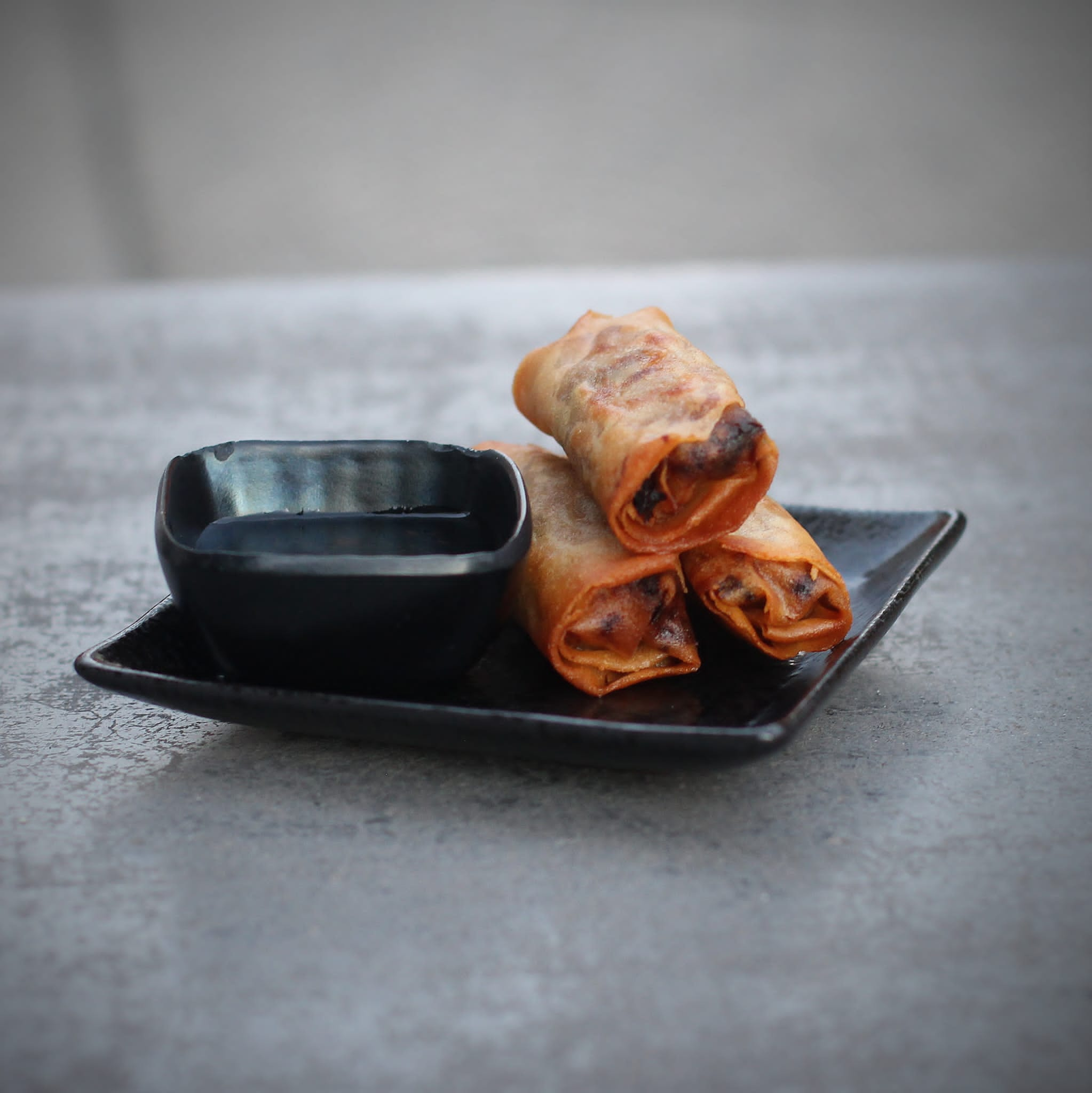 shrimp or veggie
BBQ pork or vegetarian with house spicy mayo
Handmade, lightly seasoned shrimp dumplings, tapioca wrapper
Handmade pork soup dumplings
Handmade dumpling with pork and shrimp in a wonton wrapper
sam gu gaau
$12
Handmade four mushroom and truffle dumplings
basa, water chestnut & spinach wrapped in beancurd, with chilli garlic sauce & crispy shallots
Small Plates
Double Dip Donut
$12
mushroom tofu crema, toasted trail mix, savoury Chinese donut
Taiwanese Cauliflower
$15
lap cheong sausage, seed & almond crunch, yuzu mustard

Green Onion Pancake
$18
roasted mushroom, tofu truffle crema, ginger scallion chimichurri
add lap cheong sausage +3
Tuna Kilawin
$19
albacore, pineapple, lemongrass, coconut, chips
crispy chicken, Sichuan glaze, slaw, chili mayo
honey ginger beef brisket, pickled onion, green onion, cilantro, wasabi mayo
Dessert
Chinese Churros
$10
Chinese donut, cinnamon sugar, Cointreau infused dolce de leche
sweet corn ice cream, ube cookie, Hawker's Canadian Cheesies
Beta 5 X Mark Singson

Bar Snacks
Nuts
$6
a variety of sweet & spiced nuts
Olives
$8
citrus & lapsang marinated mixed olives
Spicy Marinated Cucumber
$6
cucumber, sesame gochugaru vinaigrette
Bar Snack Trio
$12
mixed olives, nuts, spicy marinated cucumbers
Dim Sum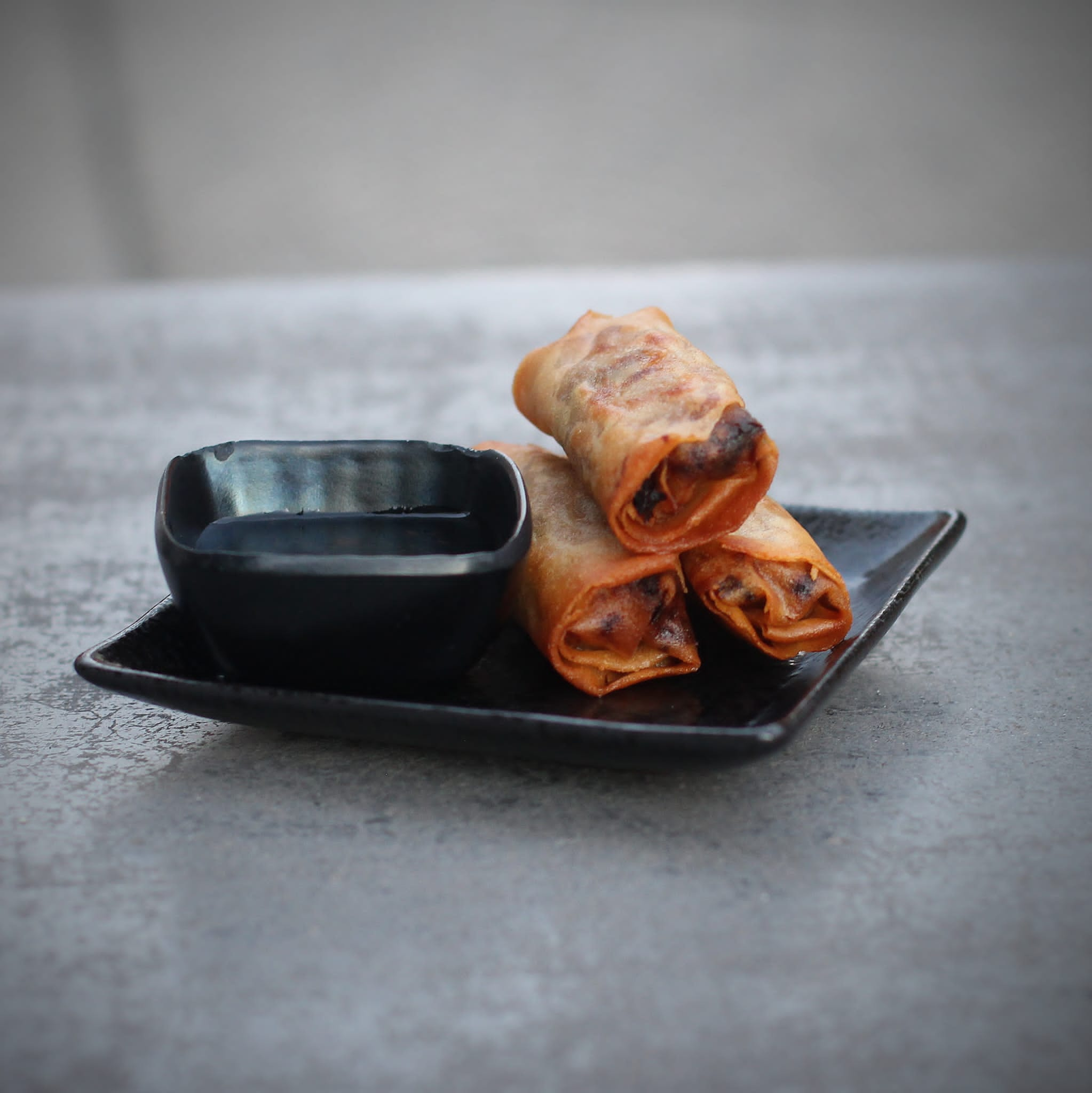 shrimp or veggie
BBQ pork or vegetarian with house spicy mayo
Handmade, lightly seasoned shrimp dumplings, tapioca wrapper
Handmade pork soup dumplings
Handmade dumpling with pork and shrimp in a wonton wrapper
sam gu gaau
$12
Handmade four mushroom and truffle dumplings
basa, water chestnut & spinach wrapped in beancurd, with chilli garlic sauce & crispy shallots
Small Plates
Double Dip Donut
$12
mushroom tofu crema, toasted trail mix, savoury Chinese donut
Taiwanese Cauliflower
$15
lap cheong sausage, seed & almond crunch, yuzu mustard

Green Onion Pancake
$18
roasted mushroom, tofu truffle crema, ginger scallion chimichurri
add lap cheong sausage +3
Tuna Kilawin
$19
albacore, pineapple, lemongrass, coconut, chips
crispy chicken, Sichuan glaze, slaw, chili mayo
honey ginger beef brisket, pickled onion, green onion, cilantro, wasabi mayo
Dessert
Chinese Churros
$10
Chinese donut, cinnamon sugar, Cointreau infused dolce de leche
sweet corn ice cream, ube cookie, Hawker's Canadian Cheesies
Beta 5 X Mark Singson

Bar Snacks
Nuts
$6
a variety of sweet & spiced nuts
Olives
$8
citrus & lapsang marinated mixed olives
Spicy Marinated Cucumber
$6
cucumber, sesame gochugaru vinaigrette
Bar Snack Trio
$12
mixed olives, nuts, spicy marinated cucumbers
Dim Sum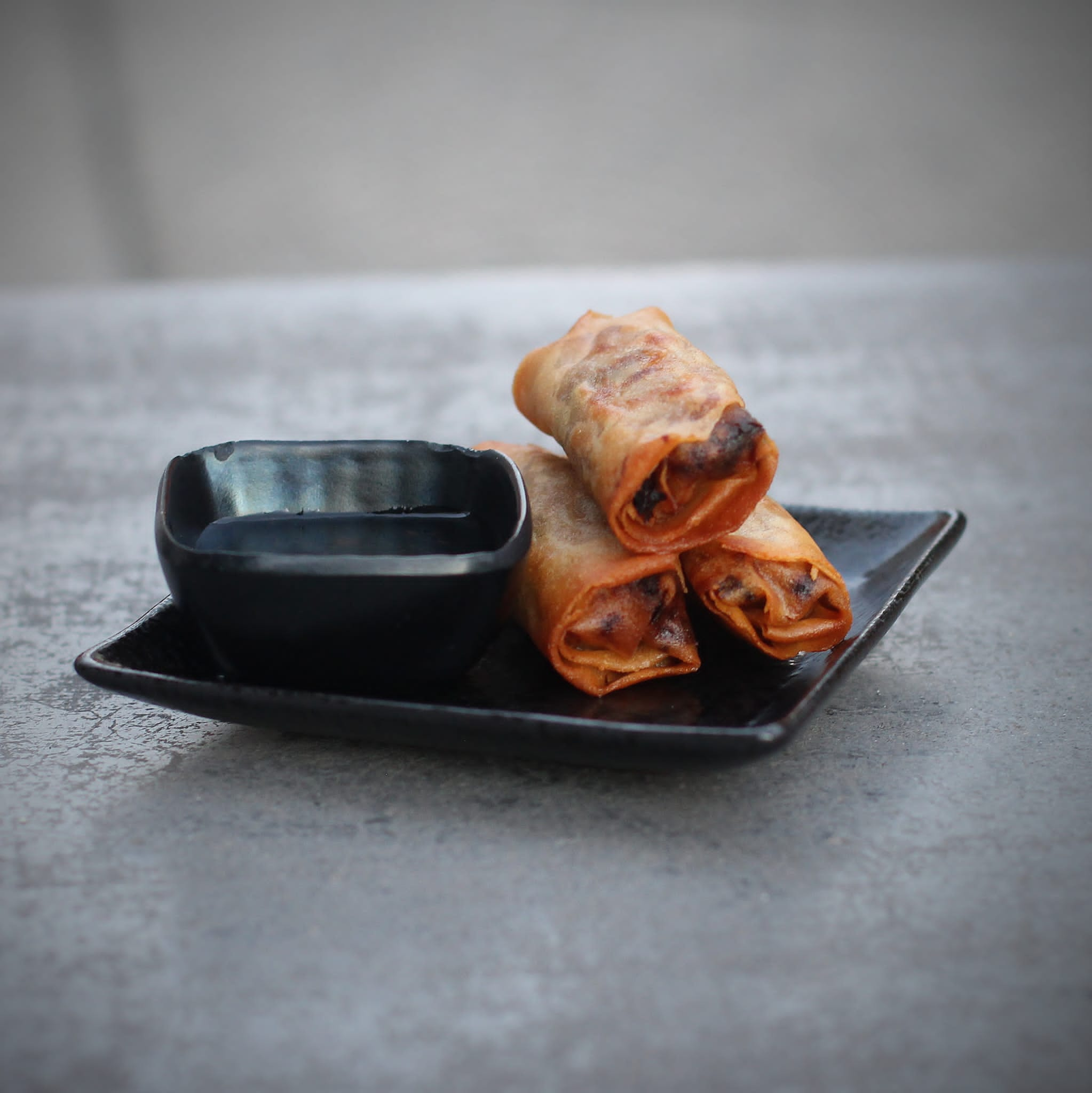 shrimp or veggie
BBQ pork or vegetarian with house spicy mayo
Handmade, lightly seasoned shrimp dumplings, tapioca wrapper
Handmade pork soup dumplings
Handmade dumpling with pork and shrimp in a wonton wrapper
sam gu gaau
$12
Handmade four mushroom and truffle dumplings
basa, water chestnut & spinach wrapped in beancurd, with chilli garlic sauce & crispy shallots
Small Plates
Double Dip Donut
$12
mushroom tofu crema, toasted trail mix, savoury Chinese donut
Taiwanese Cauliflower
$15
lap cheong sausage, seed & almond crunch, yuzu mustard

Green Onion Pancake
$18
roasted mushroom, tofu truffle crema, ginger scallion chimichurri
add lap cheong sausage +3
Tuna Kilawin
$19
albacore, pineapple, lemongrass, coconut, chips
crispy chicken, Sichuan glaze, slaw, chili mayo
honey ginger beef brisket, pickled onion, green onion, cilantro, wasabi mayo
Dessert
Chinese Churros
$10
Chinese donut, cinnamon sugar, Cointreau infused dolce de leche
sweet corn ice cream, ube cookie, Hawker's Canadian Cheesies
Beta 5 X Mark Singson

Bar Snacks
Nuts
$6
a variety of sweet & spiced nuts
Olives
$8
citrus & lapsang marinated mixed olives
Spicy Marinated Cucumber
$6
cucumber, sesame gochugaru vinaigrette
Bar Snack Trio
$12
mixed olives, nuts, spicy marinated cucumbers
Dim Sum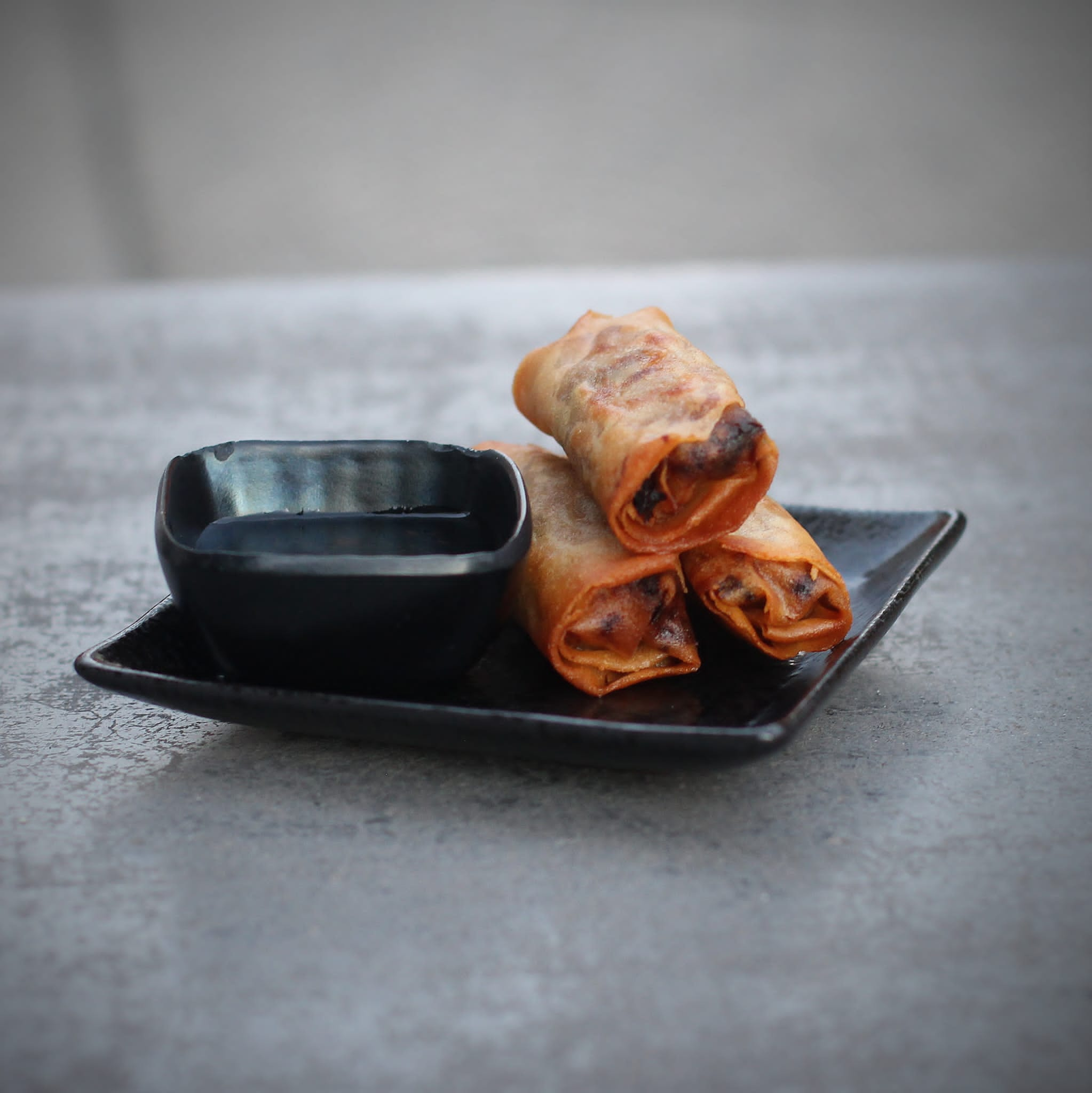 shrimp or veggie
BBQ pork or vegetarian with house spicy mayo
Handmade, lightly seasoned shrimp dumplings, tapioca wrapper
Handmade pork soup dumplings
Handmade dumpling with pork and shrimp in a wonton wrapper
sam gu gaau
$12
Handmade four mushroom and truffle dumplings
basa, water chestnut & spinach wrapped in beancurd, with chilli garlic sauce & crispy shallots
Small Plates
Double Dip Donut
$12
mushroom tofu crema, toasted trail mix, savoury Chinese donut
Taiwanese Cauliflower
$15
lap cheong sausage, seed & almond crunch, yuzu mustard

Green Onion Pancake
$18
roasted mushroom, tofu truffle crema, ginger scallion chimichurri
add lap cheong sausage +3
Tuna Kilawin
$19
albacore, pineapple, lemongrass, coconut, chips
crispy chicken, Sichuan glaze, slaw, chili mayo
honey ginger beef brisket, pickled onion, green onion, cilantro, wasabi mayo
Dessert
Chinese Churros
$10
Chinese donut, cinnamon sugar, Cointreau infused dolce de leche
sweet corn ice cream, ube cookie, Hawker's Canadian Cheesies
Beta 5 X Mark Singson

Bar Snacks
Nuts
$6
a variety of sweet & spiced nuts
Olives
$8
citrus & lapsang marinated mixed olives
Spicy Marinated Cucumber
$6
cucumber, sesame gochugaru vinaigrette
Bar Snack Trio
$12
mixed olives, nuts, spicy marinated cucumbers
Dim Sum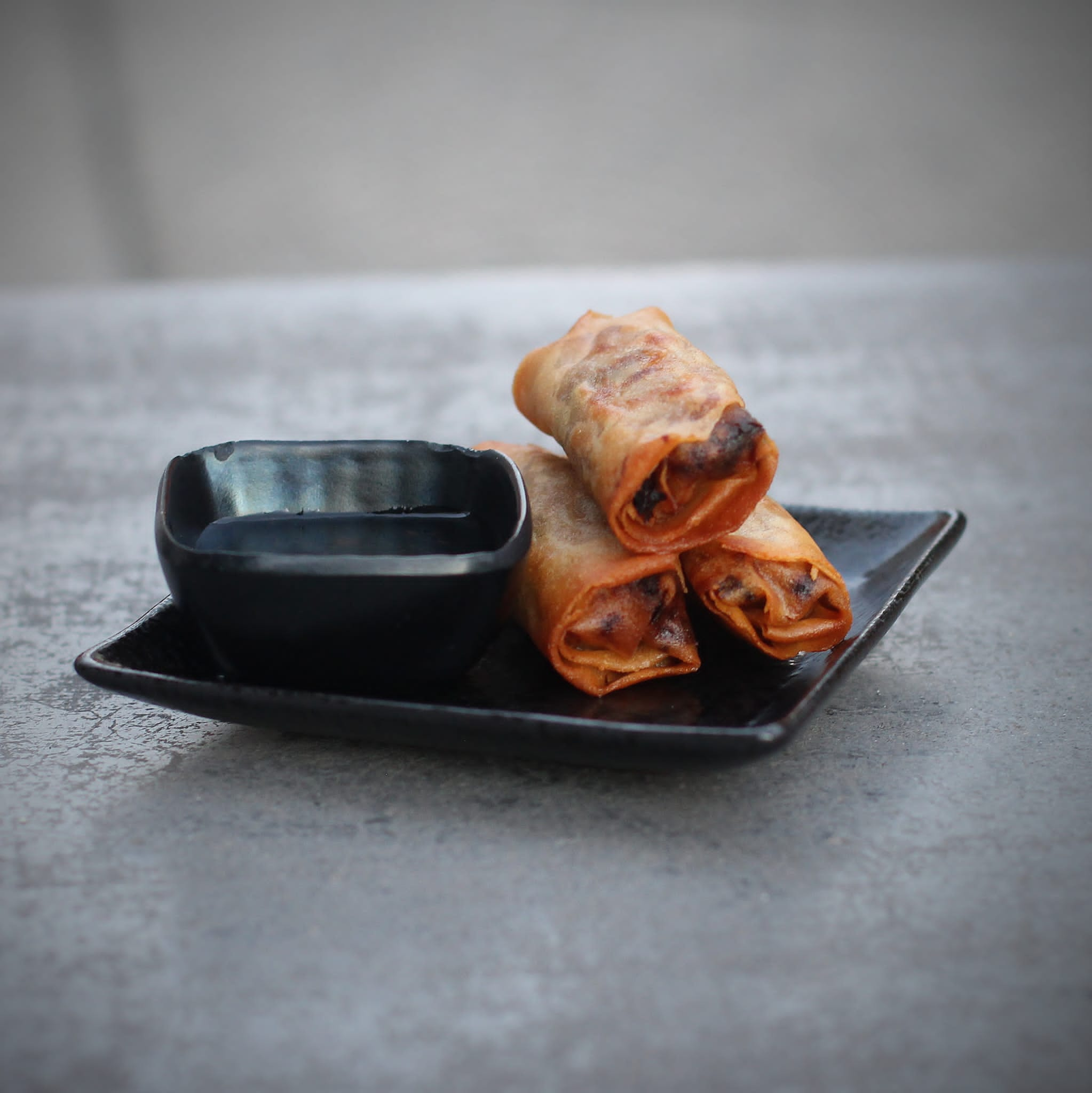 shrimp or veggie
BBQ pork or vegetarian with house spicy mayo
Handmade, lightly seasoned shrimp dumplings, tapioca wrapper
Handmade pork soup dumplings
Handmade dumpling with pork and shrimp in a wonton wrapper
sam gu gaau
$12
Handmade four mushroom and truffle dumplings
basa, water chestnut & spinach wrapped in beancurd, with chilli garlic sauce & crispy shallots
Small Plates
Double Dip Donut
$12
mushroom tofu crema, toasted trail mix, savoury Chinese donut
Taiwanese Cauliflower
$15
lap cheong sausage, seed & almond crunch, yuzu mustard

Green Onion Pancake
$18
roasted mushroom, tofu truffle crema, ginger scallion chimichurri
add lap cheong sausage +3
Tuna Kilawin
$19
albacore, pineapple, lemongrass, coconut, chips
crispy chicken, Sichuan glaze, slaw, chili mayo
honey ginger beef brisket, pickled onion, green onion, cilantro, wasabi mayo
Dessert
Chinese Churros
$10
Chinese donut, cinnamon sugar, Cointreau infused dolce de leche
sweet corn ice cream, ube cookie, Hawker's Canadian Cheesies
Beta 5 X Mark Singson

Bar Snacks
Nuts
$6
a variety of sweet & spiced nuts
Olives
$8
citrus & lapsang marinated mixed olives
Spicy Marinated Cucumber
$6
cucumber, sesame gochugaru vinaigrette
Bar Snack Trio
$12
mixed olives, nuts, spicy marinated cucumbers
Dim Sum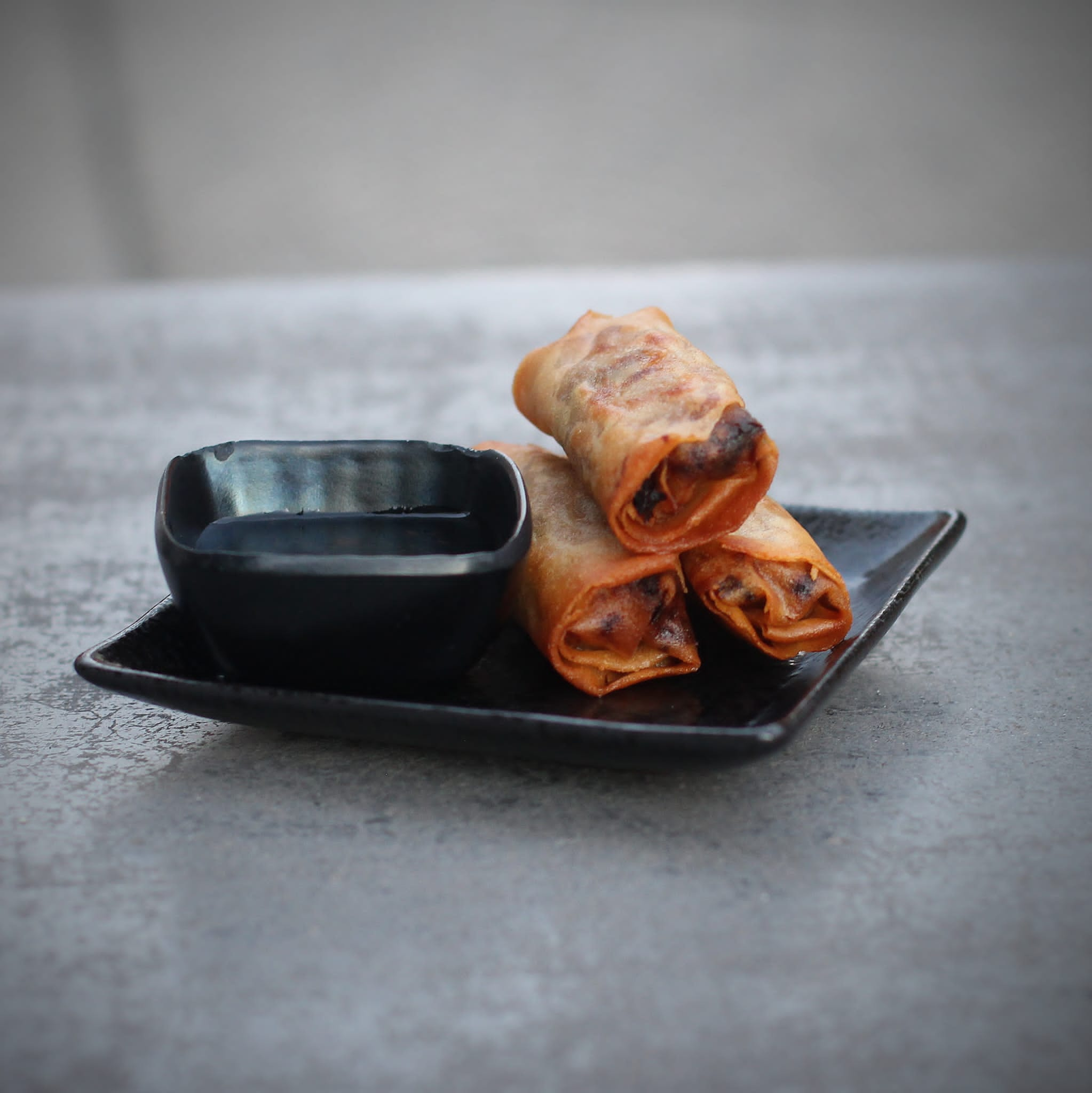 shrimp or veggie
BBQ pork or vegetarian with house spicy mayo
Handmade, lightly seasoned shrimp dumplings, tapioca wrapper
Handmade pork soup dumplings
Handmade dumpling with pork and shrimp in a wonton wrapper
sam gu gaau
$12
Handmade four mushroom and truffle dumplings
basa, water chestnut & spinach wrapped in beancurd, with chilli garlic sauce & crispy shallots
Small Plates
Double Dip Donut
$12
mushroom tofu crema, toasted trail mix, savoury Chinese donut
Taiwanese Cauliflower
$15
lap cheong sausage, seed & almond crunch, yuzu mustard

Green Onion Pancake
$18
roasted mushroom, tofu truffle crema, ginger scallion chimichurri
add lap cheong sausage +3
Tuna Kilawin
$19
albacore, pineapple, lemongrass, coconut, chips
crispy chicken, Sichuan glaze, slaw, chili mayo
honey ginger beef brisket, pickled onion, green onion, cilantro, wasabi mayo
Dessert
Chinese Churros
$10
Chinese donut, cinnamon sugar, Cointreau infused dolce de leche
sweet corn ice cream, ube cookie, Hawker's Canadian Cheesies
Beta 5 X Mark Singson

= Vegetarian
= Gluten-Free
Happy Hour
4pm - 6pm
Sunday - Friday
50% off Bar Snacks & Dim Sum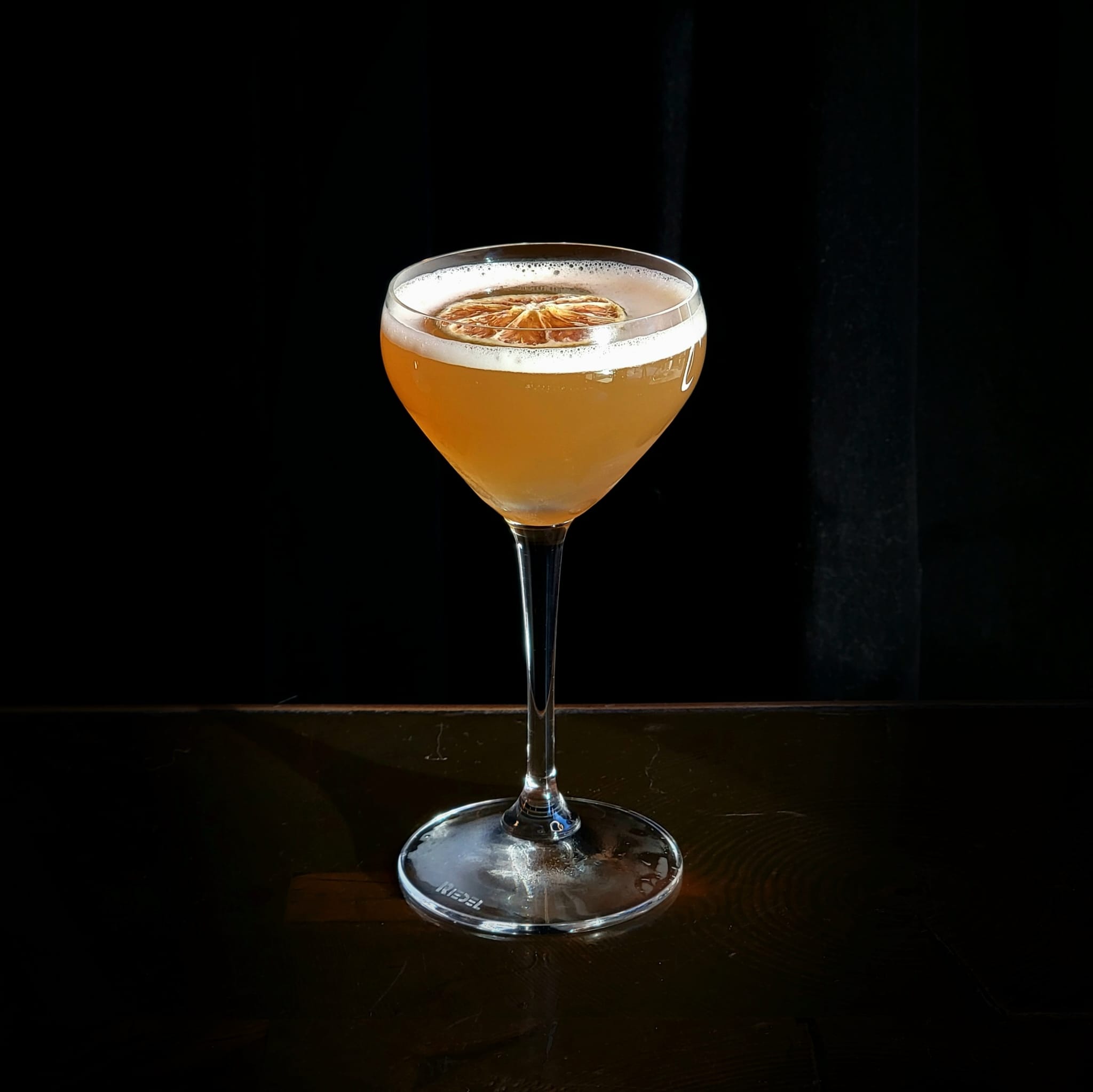 Fresh & grilled pineapple Flor de Cana 7yr rum, lime, maple yun-zhi
Forty Creek Canadian whisky, organic apple juice, lemon, spices
Beefeater gin, rosemary lime cordial
Night of a Thousand Eyes
$8
Northern Keep vodka, Kahlua, amaro Montenegro, espresso, salted caramel kasu, sesame
Cazadores blanco tequila, Cointreau, lime, salted plum
Del Maguey Vida Mezcal
$8